Paranoid Putin arrests another hypersonic missile chief for 'treason' after his 'unstoppable' Kinzhals are downed | The Sun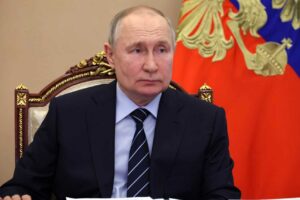 PARANOID Putin has arrested yet another hypersonic missile chief on suspicion of high treason as he faces fresh humiliation after his "unstoppable" weapons were trounced by Ukraine.
Dr Valery Zvegintsev, 78, is the latest of three aerodynamic scientists to be detained for speaking at foreign conferences, publishing magazine articles and participating in international projects.
Moscow has been accused of launching a witch-hunt at the Khristianovich Institute of Theoretical and Applied Mechanics in Novosibirsk, where the trio worked.
Zvegintsev, who founded the institute's laboratory of Aero Gas Dynamics which deals with hypersonic technologies, was arrested in April but it was not revealed until now.
His colleagues described how they are at a loss as to "how to continue their craft" with the fear of being nicked looming over their heads.
In a heartfelt open letter published on Monday, fellow scientists accused the FSB security service of targeting the three boffins without reason.
READ MORE ON VLADIMIR PUTIN
Ukraine claims they have killed 200,000 Russians – with one dead every 3 MINUTES
Vlad 'blows up US Patriot missile system' protecting Kyiv in 'merciless' blitz
The experts, plus another Novosibirsk pundit who is also behind bars, are seen as crucial to Russia's suspected lead over the West in hypersonic technology.
Putin has spearheaded the use of devastating missiles, such as the Kinzhal, while smugly showing off his advantage on the world stage.
He has relied on the fearsome weapons as the trick up his sleeve throughout the invasion of Ukraine, even bragging that they were capable of taking on NATO.
Meanwhile his terrifying addition, the Sarmat – known as Satan-2 – is poised for new tests amid suspicions of a delay.
Most read in The Sun
Holly LEAVES This Morning early & tells Phil 'don't be naughty' after awkward kiss
This Morning bloodbath as ITV bosses plot clear out in feud fallout
Former soap actress joins Coronation Street for steamy new affair storyline
Urgent warning to dog owners over pet food which could be DEADLY
The letter read: "Over the past year, three outstanding aerodynamic scientists of our institute – Anatoly Maslov, Alexander Shiplyuk and Valery Zvegintsev – were arrested on suspicion of committing a crime under the most severe article of the criminal code – 'high treason'.
"All of them are known for their brilliant scientific results.
"Their competencies and professional reputation allowed them to find highly paid and prestigious jobs abroad.
"But they did not leave their homeland, devoting their lives to serving Russian science."
Maslow and Shiplyuk are reported to have been arrested in the summer of last year on treason charges.
An earlier open letter about the first two to be held said: "We see that any article or report can lead to accusations of high treason.
"What we are rewarded for today and set as an example to others, tomorrow becomes the reason for criminal prosecution.
"In this situation, it is simply impossible for our institute, the only academic organisation in the country with an extensive base for experimental and numerical aerodynamic research, to work."
Scientists claim the Russian President's secret service is rounding up experts in the weaponry field for carrying out run-of-the-mill work.
They alleged the next generation of boffins are walking out of the institute as they fear being caught up in the Stalin-like crackdown of top experts and demanded an "urgent solution."
Putin also abruptly fired the man in charge of Russia's supply of the smallpox virus in recent weeks for his "failure to resolve and prevent conflicts of interest."
Dr Rinat Maksyutov, 41, was also given the boot for an unspecified "violation of the law", according to a brief statement.
BOMBARDMENT BLUNDER
Zvegintsev, Shiplyuk and Maslov – all internationally acclaimed experts – face up to 20 years behind bars if convicted.
Reports claim the aerodynamic scientist is currently under house arrest, while his two colleagues are being held in Moscow's Lefortovo jail.
The detention of the three top scientists comes as Russia rushed to defend Putin's hypersonic Kinzhal missile after Ukraine claimed to have shot six down.
The war-torn nation said they had neutralised all 18 missiles that were fired at Kyiv during Monday night's unprecedented blitz of the capital.
But the most shocking achievement was their ability to defeat the Kinzhal's, which Putin had claimed were an unstoppable force.
The KH-47's, also known as Russian Daggers, are said to be capable of travelling 12 times the speed of sound – making it nearly impossible to detect and neutralised from a defensive position.
The missiles, which can reach speeds of over 7,000mph and have regularly been unleashed by Putin in the Ukraine war, can be loaded with up to 1,000 pounds of explosives or even a nuclear warhead.
Ukraine claimed they had thwarted an entire barrage of hypersonic missiles with the US-made Patriot air defence system, with defence minister Oleksii Reznikov hailing the "unbelievable success".
The UK's Ministry of Defence confirmed the first Kinzhal was successfully downed on May 3, while several more were lost this week.
But Putin's defence minister Sergei Shoigu denied the spectacular defeat, claiming Ukraine had got confused about the weaponry.
He fumed: "I have already said and I will repeat it again.
"We have not launched as many Kinzhals as they allegedly shot down with their statements. And it is still a big question of who really controls the American complexes there.
"They always make mistakes with the type of missiles. That's why they don't hit."
THE COST OF PROTECTING KYIV
Reports have speculated Russia is desperately trying to do damage control so they can continue to hang the fears of unleashing hypersonic hell over the West.
However, the US confirmed that the latest strikes had likely damaged its $1.1billion Patriot missile system that is key in protecting Kyiv.
Russia had alleged that one of the Kinzhal hypersonic missiles "destroyed" the advanced air defence battery.
It costs a whopping $1.1billion – $400million for the system and $690million for the missiles in a battery – but it granted Ukraine a priceless advantage when defending itself against air attacks.
Each missile fired from the Patriot costs around $4million – and footage showed dozens were launched last night alone.
It means Ukraine has racked up a hefty bill in its attempt to protect Kyiv.
But an official speaking on condition of anonymity denied it had been destroyed by Russia and was probably repairable in Ukraine.
The Patriot is viewed as a vital addition to Kyiv's arsenal due to its ability to withstand Russian aerial aggression.
It is feared Ukraine's defence of the capital could crumble if the indispensable mobile air-defence system was knocked out.
The latest bombardment came as Ukrainian President Volodymyr Zelensky returned to Kyiv after a four-country tour in Europe with Britain as his final stop.
He secured pledges for even more air-defence systems, attack drones and armoured vehicles from allies.
Read More on The Sun
Vet nurse reveals the best dogs for first time owners & those to AVOID
I took a cheeky week-long break in Spain without using annual leave – here's how
Moscow is enraged by the British supply of missiles, but Putin's spokesman said it would "not affect" the course of the war.
However, he warned it would "lead to retaliatory actions by the Russian Federation".

Source: Read Full Article