Parliamentary researcher arrested for 'spying for China' insists he's innocent | The Sun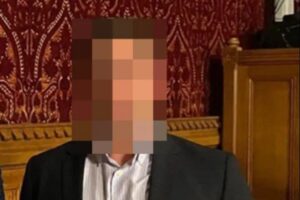 A TOP parliamentary aide arrested on suspicion of spying for China today said he is "completely innocent" as he broke his silence.
The man, aged in his 20s, was arrested under the Official Secrets Act after allegedly passing top secret documents to China.
He was detained in March but the arrest was undisclosed until Saturday.
The parliamentary aide, who has not been named, has now released a statement through his lawyers claiming he is innocent.
Birnberg Peirce said: "I feel forced to respond to the media accusations that I am a 'Chinese spy'. It is wrong that I should be obliged to make any form of public comment on the misreporting that has taken place.
"However, given what has been reported, it is vital that it is known that I am completely innocent. I have spent my career to date trying to educate others about the challenge and threats presented by the Chinese Communist Party.
"To do what has been claimed against me in extravagant news reporting would be against everything I stand for."
A second man, aged in his 30s, was arrested at the same time, with both men bailed until October.
It comes as the Commons Speaker Sir Lindsay Hoyle prepares to release a statement in relation to the case.
Ministers are said to be furious about being left in the dark at the arrests.
Most read in The Sun
SOAP WEDDING
Emmerdale's Amy Walsh marries EastEnders star fiance in front of co-stars
NOA HOFFMAN
I matched with Commons 'spy' on dating app, I re-read our texts and was shocked
WEDDING BASH
Inside Calvin Harris & Vick Hope's Glasto-themed wedding with showbiz pals
DEVIL DOG BAN
Home Sec vows to outlaw killer XL Bully dogs after horror attack on girl, 11
The suspected spy was handed an access-all-areas pass at Westminster after lobbying for ­Foreign Affairs Committee chair Alicia Kearns to get elected.
He also had links with security minister Tom Tugendhat.
At the time, he was working as a researcher for the China Research Group of MPs, which was set up by Mr Tugendhat and run by Ms Kearns.
The private schoolboy continued to work as a researcher to the CRG until June this year.
Mr Tugendhat has had no contact with him since he was appointed security minister in September last year.
He is now pushing for China to be relabelled as a threat to Britain's safety under new national security laws along with Home Secretary Suella Braverman, The Times reports.
Anyone working "at the direction" of China or a state-linked firm would have to register and disclose their activities or risk jail under the plans.
Sir Iain Duncan Smith has also been pressing Prime Minister Rishi Sunak to name China as a national threat.
He said: "The result is that China is penetrating all our institutions from universities to Parliament.
"Time to speak through strength not weakness."
Today a spokesperson for Rishi Sunak implored any MP who believes they've been targeted by spies to contact the police.
Read More on The Sun
I'm a teacher & had a wardrobe malfunction, I was only told at the end of my day
I paid £200 to be 'as blonde as possible' – the result couldn't look more off
They added that the government would "robustly defend our democracy" but must maintain communication with the communist state.
A No10 spokesperson said: "If anyone had any concerns that they had been targeted in any way shape or form – and again I'm not pre judging this specific case – then yes of course (they should contact the police)."

Source: Read Full Article