Our picturesque town has the MOST unsolved burglaries in the UK – we're fighting back using new tactic | The Sun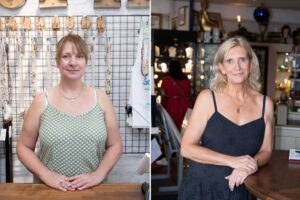 RESIDENTS of a picturesque town say it is being ruined by thieves with no burglaries solved in the past three years.
Disgruntled locals in Lyndhurst, Hampshire, have been left fuming at the state of their quaint home after a rise in stealing.
With 84 burglaries left unresolved, many locals feel that Hampshire Constabulary has all but given up on the rural town.
But residents are now fighting back after the pretty village was revealed to have the most unsolved burglaries in the whole of the UK.
Shop owners instantly share crime alerts, emergency calls and images of suspects captured on CCTV through a WhatsApp messaging group.
And locals have even created n additional "SOS group" where a lone shop worker can post a WhatsApp message requesting immediate help from fellow store owners.
Read More in UK News
Rescuer who fell 500ft while trying to help campers breaking Covid rules dies
Method terror suspect Daniel Khalife used to 'escape from jail' revealed
On the group chat, they share information ranging from customers behaving suspiciously to people using counterfeit notes.
Sophie Draper, 50, has run a clothing shop in the village for 17 years and told The Times: "We don't have a police presence any more.
"We used to have a lovely police officer, Andy, and Lisa, a PCSO. They would walk up and down and pop in but that was probably back in 2016.
"Lisa is a dog walker now, she left because of the cuts. I think we have a PCSO but I have never met him.
Most read in The Sun
SOAP WEDDING
Emmerdale's Amy Walsh marries EastEnders star fiance in front of co-stars
NOA HOFFMAN
I matched with Commons 'spy' on dating app, I re-read our texts and was shocked
WEDDING BASH
Inside Calvin Harris & Vick Hope's Glasto-themed wedding with showbiz pals
DEVIL DOG BAN
Home Sec vows to outlaw killer XL Bully dogs after horror attack on girl, 11
"The only time you see police now is when they park on the double yellows and pop into Costa for a coffee."
But despite the lack of policing, Sophie says that she has had success using social media to solve crime after catching a woman shoplifting in her store.
She posted a CCTV image of the woman on Facebook and a family member recognised her and told her husband.
Sophie added: "He came in and paid for the item and apologised, saying he had realised she had mental health issues.
"I have had nothing since then."
Other shopkeepers have also used the vigilante network to catch Lyndhurst's burglars.
Janine Stone saw two of her colourful Moorcroft charger plates worth £750 go missing one morning.
After making a police report that contained CCTV images of the suspects she claims she was told there was nothing cops could do.
Janine, 52, then posted the details on Facebook and the shoplifter returned the items days later.
She told MailOnline: "It was the pressure that got to her.
"Her friend saw the photo and told her that her image was all over social media, and said she should do the right thing."
Janine added: "We've only had four thefts since we've run the shop. But we still need the police.
"It would be nice to have a visit from an officer, rather than an automated email response."
Aaron Page, 41, is also one of the twenty high street WhatsApp warriors.
He said: "I'm not anti-police but it feels like they've just left us."
Replaying CCTV footage, Aaron recounts the moment he had to stop a man who tried to steal a £29 bottle of whisky from his shop.
And he said that sometimes the suspects were not always who you'd expect.
Aaron added: "I had an elderly lady in here once, who stole a Ford Mustang car model. She walked out with it and I went after her.
"Excuse me madam, I know you've got the car!' I was polite to her; she just gave it back to me."
While Brett Wateridge, 47, says that burglars have blighted his life for two decades.
He said: "In the past you would get a visit from the police who would show some interest. Seems less so now."
The Hampshire police force has at least 300 fewer officers than in 2010, having had to save £80 million in "efficiency" since that year.
Chief Inspector Nick Marsden, the New Forest district commander, has said there has been a steady decline in theft offences after the force vowed to visit every burglary and chase up investigative opportunities.
He said police needed "the support of the public and for them to continue to report suspicious incidents or crimes to us."
A statement read: "We understand the concerns of the local public and acknowledge the wide-ranging consequences of being a victim of crime can have on individuals; whether that be incidents of shoplifting and theft, criminal damage, robbery or anti-social behaviour.  
"The emotional and physical effects that these crimes can have on victims – and the wider local community – can often have a long-lasting impact and cause ongoing implications for those affected.
We accept that criminality does take place in our communities, the likes of anti-social behaviour, shoplifting, residential and business burglaries.
"We continue to work at pace to investigate reasonable lines of enquiry as part of our investigations and ensure that we bring those responsible for committing such offences to justice.
We remain committed to tackling these crimes across Hampshire and the Isle of Wight.
"We will always seek to pursue those responsible for causing the most harm in our communities, but we need the support of the public and for them to continue to report suspicious incidents or crimes to us. Only then can we take action and bring those responsible to justice."
A statement from the Chairman of Lyndhurst Parish Council told The Sun: "We are aware that rural crime is an issue nationally and The New Forest is no different. 
Read More on The Sun
Mum spends benefits on designer school shoes for kid only for them to be banned
Kate Garraway reveals heartbreaking reason she kept hospital dash secret
"However, Lyndhurst remains a safe and happy place in which to live and work.  We are seeking a conversation with Hampshire's Police and Crime Commissioner, to secure a better understanding of any particular issues facing Lyndhurst. 
"We are already working proactively with New Forest District Council, to expand their CCTV network in the village."

Source: Read Full Article