Push to cut isolation time for vaccinated students as exams loom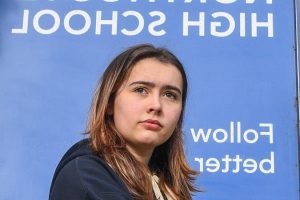 For our free coronavirus pandemic coverage, learn more here.
The time fully vaccinated VCE students spend in self-isolation after coming into close contact with a COVID-19 case could be shortened from 14 days to help minimise instances of students being forced to sit out exams.
The Department of Health is weighing up the proposal from the Victorian Curriculum and Assessment Authority, which is looking for a safe way to prevent as many students as possible from missing exams.
Northcote High School year 12 student Josie Armstrong fears that a stint in self-isolation could derail her exams.Credit:Justin McManus
The proposal comes as some private schools insist their VCE students stay home rather than fall into line with the state government's planned return to face-to-face learning in term four.
Schools including Al-Taqwa College in Truganina, Mount Scopus Memorial College in Burwood and Xavier College in Kew have halted face-to-face classes for senior students in what remains of term four, in the hope of avoiding an infection in their senior student ranks.
Others, including Kilvington Grammar in Ormond, are giving their students a choice between coming to school in their final days of year 12 or studying remotely with full support from teachers.
The moves by non-government schools have been driven in part by a level of anxiety and concern among parents.
By Wednesday morning, the Department of Education's list of school closures had increased to 59, including 17 secondary schools.
Year 12 students are due to sit their English exam on October 27. Several secondary schools have been forced to return to remote learning because of a case in the community, just a week after senior students returned to classrooms.
VCE students who have come into close contact with a COVID-positive person are currently required to isolate for 14 days.
Students who have to miss an exam will receive a derived score, based on their results in other school-based assessments they have completed this year and their performance in the General Achievement Test.
But Victorian Curriculum and Assessment Authority chief executive Stephen Gniel said the authority wanted as many students as possible to be able to sit their exams rather than spend their last days of school in enforced isolation.
"Students have worked really hard, so we want them to have the opportunity to sit the exam," he said.
Among the schools to have suffered a case since students returned is Northcote High in Melbourne's north, where VCE students were told to isolate on Monday and Tuesday and to learn from home after a COVID-positive student attended for two days last week.
Josie Armstrong, a year 12 student at Northcote High, said she feared the prospect of having to miss her exams.
"I'd be quite stressed if I was stuck in isolation and had to rely on past results if I'd studied for a few weeks leading up to it, and then suddenly you can't do it [an exam]," Josie, 18, said.
Josie, who wants to study media at RMIT University, said she was already nervous that the unplanned return to remote learning this week would affect her ATAR.
All VCE students will receive individual consideration of the educational disadvantage they experienced due to COVID-19 this year.
Al-Taqwa principal Omar Hallak wrote to the school community this week, saying he held grave concerns that a return to face-to-face classes would trigger another outbreak at the school, given its students come from a wide catchment in the western and northern suburbs, where COVID-19 is still raging.
He wrote: "The college's view is that despite every precaution we can take, and how closely we comply with the Victorian government's rules and requirements, it is inevitable that, with our catchment area being by far the worst-affected COVID hot zones, the college will be affected severely by numerous COVID-19 infections as the scheduled return to face-to-face teaching and learning continues."
A spokeswoman for Kilvington Grammar said the school would move to a hybrid teaching mode for senior students for the rest of the school year, with in-class and in-home teaching on offer.
The Morning Edition newsletter is our guide to the day's most important and interesting stories, analysis and insights. Sign up here.
Most Viewed in National
From our partners
Source: Read Full Article