Riley Keough posts photo of her as a child with mom Lisa Marie Presley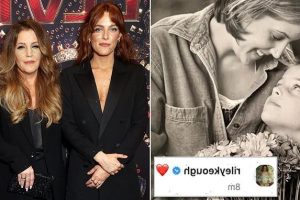 Riley Keough posts heartbreaking photo of her as a child with mother Lisa Marie Presley as she's laid to rest beside brother Benjamin Keough at Graceland
Riley Keough posted a childhood photo of herself with her mom Lisa Marie Presley, who died last week at the age of 54 from cardiac arrest 
Presley's oldest child simply captioned the post with a red heart 
It is the first time Keough has acknowledged her mother's death 
Presley was laid to rest at the family's Graceland estate ahead of a celebration of life service on Sunday at 9pm 
She was buried next to her son, Benjamin Keough, who died in 2020  
Riley Keough posted a heartbreaking childhood photo of herself with her mom Lisa Marie Presley, who died last week at the age of 54 from cardiac arrest. 
Keough, 33, posted a photo of her mother looking adoringly down at her as a small child while she gazed back with a soft smile on her face. 
Presley's oldest child simply captioned the heartbreaking post with a red heart. 
It is the first time the Daisy Jones and the Six actor has acknowledged her mother's death, who died last week at the hospital after suffering from cardiac arrest twice. 
Presley was laid to rest at the family's Graceland estate ahead of a celebration of life service on Sunday at 9pm. 
She was buried next to her son, Benjamin Keough, who took his own life in 2020, and across from her famous father Elvis' plot.  
Riley Keough posted a childhood photo of herself with her mom Lisa Marie Presley, who died last week at the age of 54 from cardiac arrest.
She simply captioned the post with a red heart. It is the first time Keough has acknowledged her mother's death 
Presley grew up fearing her own mortality after she found her father dead at the age of nine, traumatizing her. She often spoke of her own death and even referred to the backyard at the Graceland estate as a 'graveyard.' 
'How many people have a family grave in the backyard? How many people are reminded of their fate, of their mortality, every f**king day? All the graves are lined up and there's a spot there, waiting for me, right next to my grandmother,' she told Playboy in 2003. 
Despite her fear, the singer believed she had many more years to live last Sunday and told her friend David Kessler, who works as a grief counselor, that she had 'so much to do.' 
The pair were at the Graceland estate to celebrate what would have been Elvis' 88th birthday and Presley, who rarely makes public appearances, told the adoring crowd 'you are the only people who can bring me out of the house.' 
'I'm not kidding. I love you back and that's why I'm here,' she said.  
On Tuesday, the Los Angeles County Coroner deferring the results of her official cause of death pending the results of a toxicology test – which could take years.
Several of the Presleys also died from heart conditions, including her own father, who died in 1977 at the age of 42 from cardiac arrhythmia with ventricular fibrillation – a condition where the heart beats abnormally and then stops.
Her grandmother, Gladys Love Presley, died at the age of 46 from heart failure, and her grandfather, Vernon Elvis Presley, died at 63 from cardiac arrest.
The mother and daughter duo were seen with Elvis' former wife Priscilla (right) at the Elvis premiere in June 
Lisa Marie with her parents in 1970. Presley found her father dead at the age of nine. After finding her father dead, she became afraid of her own mortality and often referred to the backyard of Graceland as a 'graveyard' 
In addition, in August last year Lisa Marie wrote an essay about her son Benjamin's death to mark National Grief Awareness.
'I can understand why people may want to avoid you once a terrible tragedy has struck. Especially a parent losing their child because it is truly your worst nightmare,' she wrote in her essay, which was published by People.
Lisa Marie admitted that she had kept her distance from the parents of other people whose children died by suicide, something that seemed to haunt her.
'I can recall a couple of times in my life where I knew parents who lost their child and while I could be there for them when it happened, I avoided them after and never bothered to follow up with them because they quite literally became a representative of my biggest fear,' she wrote.
'I also low-key judged them, and I swore I'd never do whatever it was that I felt they either did or neglected in their parental actions and choices with their child.'
She added that she had been 'living in the horrific reality' of grief's 'unrelenting grips' ever since her son's death.
Keough has also acknowledged her brother's death several times, including in October when she wrote a tribute post on his birthday, writing: 'You would be 30 today. Happy Birthday my best friend, my angel. This world is strange without you.' 
Presley was buried next to her son Benjamin (pictured together), who took his own life in 2020 
In July, she also posted a wedding photo of her and Benjamin, writing: 'Not an hour goes by where I don't think of you and miss you. It's been two years today since you left and I still can't believe you're not here. You are so loved my Ben Ben.' 
Since her mother's death, fans have come to place flowers on the front gate of the estate to honor the singer.
'In lieu of flowers, the family encourages all who wish to send something to do so in the form of a donation to The Elvis Presley Charitable Foundation,' the Graceland website read.
Presley died on January 12 after suffering a second cardiac arrest while she was in the hospital. Her family signed a 'do not resuscitate' order.
The 54-year-old only child of Elvis and Priscilla Presley was rushed to hospital on Thursday morning after she was found by her housekeeper collapsed inside her Calabasas home.
EMTs arriving at her home managed to revive her and she regained a pulse, but she was brain dead on arrival at the hospital, TMZ reported on Friday.
The family rushed to her bedside, where she was in an induced coma and on life support. On learning she was already brain dead, they signed a 'do not resuscitate' order.
She suffered a second cardiac arrest and died.
Her mother Priscilla, 77, was by her bedside.
 Presley attended the Globe Globes a few days before she passed away 
'It is with a heavy heart that I must share the devastating news that my beautiful daughter Lisa Marie has left us,' Priscilla Presley said in a statement Thursday evening.
'She was the most passionate, strong and loving woman I have ever known.'
Ex-husband Danny Keough – her first of four, with whom she was living at the time of her death – had returned to the house shortly after she collapsed, and performed CPR until the paramedics arrived.
Keough is the father of her actress daughter Riley, 33, and son Benjamin, who took his own life in July 2020 aged 27.
Her fourth husband, Michael Lockwood, is the father of Presley's 14-year-old twin daughters Harper Vivienne and Finlay, who have said they will not return to the house their mother died in.
Presley was at the Golden Globes two days before her death, celebrating Austin Butler's Best Actor award for portraying her father, where she broke down in tears during the actor's speech.
And on Sunday, the singer-songwriter told the devoted crowd at her father's Memphis estate that they were the 'only people who can bring me out of the house,' to mark his 88th birthday.
Source: Read Full Article