Serial rapist dubbed the 'Shoreditch Prowler' storms out of court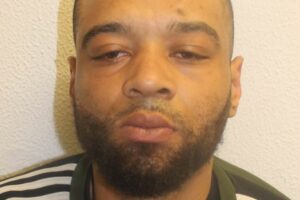 ANOTHER coward refusing to hear his prison sentence: Serial rapist dubbed the 'Shoreditch Prowler' who drugged four women then launched vicious attacks shouts at the judge 'you mad' before storming out of the dock after learning he would be jailed for life
Clement Omoregbee, 38, shouted at the judge 'You mad? Take me downstairs' 
A serial rapist dubbed the 'Shoreditch Prowler' who drugged four women before attacking them stormed downstairs out of the dock after hearing the judge was to give him a life sentence.
Clement Omoregbee shouted at the judge 'You mad? Take me downstairs' before leaving the dock rather than staying to hear the minimum term he would serve.
Omoregbee, 38, drugged four women into 'total amnesia' before violently raping them in public after they had nights out in Shoreditch.
He showed no emotion at Wood Green Crown Court as he heard how his victims still had flashbacks and had contemplated suicide. But on hearing he was to get a life sentence he erupted: 'You mad? Take me downstairs to the f***ing wing. You man f***ing dumb.'
It comes after Justice Secretary Alex Chalk said earlier this year that ministers were committed to changing the law to force criminals to be sentenced in person after the killers of Olivia Pratt-Korbel, Zara Aleena and Sabina Nessa refused to stand in the dock – as did serial killer Lucy Letby. 
Clement Omoregbee shouted at the judge 'You mad? Take me downstairs' before leaving the dock rather than hear the minimum term he would serve
Omoregbee was jailed for a minimum of 13 years and four months in his absence.
Judge Karim Ezzat slammed the rapist for showing no remorse to his victims, only regret for finding himself facing prison.
His denials had meant his victims had to give evidence in court. The five week trial had heard how he drugged them by administrating either GHB or GBL, before stealing their jewellery, bank cards, and phones.
All 12 offences were committed while he was on a 15-month suspended sentence for a burglary committed on November 9 2018.
After being arrested near his home Omoregbee initially denied the rapes during a police interview on April 23, 2021, after he was linked to three attacks by DNA evidence.
He was later charged with a fourth attack after the Metropolitan Police researched the predator's behaviour and probed their systems for similar crimes.
READ MORE: Shoreditch prowler who drugged and raped women he targeted as they left trendy bars faces years in jail after being convicted of two-year spree 
Ahead of his trial, Omoregbee pleaded guilty to six counts of fraud and theft for stealing phones, jewellery and bank cards and making purchases after he'd carried out the rapes.
His first victim was a 28-year-old who had been on a date with a man in February 2019. Her date left around midnight and the next thing woman remembered was being bent over a wall in a churchyard and raped.
On the night of January 16, 2020, Omoregbee raped his second victim, who had been on a night out visiting several Shoreditch bars with friends.
After being separated from her group, the next thing she could recall was a man raping her while they were outside.
On September 4, 2020, a woman was on a night out with her ex-flatmate. She struggled to put her pass-code into her phone near her flat and after falling asleep woke to flashbacks of 'someone poking around in her groin area'. She had also lost her memory after her second drink.
Just three months later, on the night of December 5, 2020, another woman blacked out while in a bar with her friends. She recalled talking with a man, Omoregbee, while on a brown sofa in the street.
Her partner rescued her after she fell asleep on the bus back to her home in Walthamstow, having tracked her phone.
In the ensuing couple of days she started to remember a man behind her and her saying 'wear a condom'.
Omoregbee did not wear a condom for any of the rapes and his semen was found on three of the women, though the fourth woman's sample was later lost by police after it had tested positive for Omoregbee.
Handing down his verdict, the judge said: 'Over the course of the trial I have heard victims give evidence, their only connection was your terrible offending.
'Your victims were all stupefied on the night that you attacked as a result of your drugging, as a result of being drugged by you, or someone connected to you.
Omoregbee showed no emotion at Wood Green Crown Court as he heard how his victims still had flashbacks and had contemplated suicide
'No sentence that this court can impose will reverse the trauma that these four brave women in this trial have suffered.
'The victims' vulnerability was both from the fact that they were all on nights out, and had all consumed alcohol, and the fact that you drugged them.
'You stole from them, you took their money their means of accessing help.'
Referring to one of Omoregbee's victims, who was ruled to have suffered severe psychological harm, Judge Ezzat said: 'The attack that you perpetrated on her has put damage on every part of her life and left her contemplating suicide.'
The same woman, in her impact statement read to the court, said: 'I hoped when he raped me I would die.
'I wondered why if he raped me, why he didn't just kill me. I didn't want to live with this pain and couldn't imagine a future in which I was better.'
Omoregbee of Charlton Lane, Greenwich, did not return to court to hear the judge sentence him for a minimum term of 13 years and 122 days for four rapes, four thefts, three counts of fraud and one possession of cannabis; the sentences will be served concurrently less time already spent on remand.
Detective Constable Steve Halfhide from the Complex Investigation Team said: 'Clement Omoregbee is a vile predator who targeted lone women in the night time economy.
'He has no place in society and is a danger to women. Omoregbee's violent and disturbing actions have had life-changing impacts on the women he attacked.'
Source: Read Full Article