Urgent warning as 5ft python is found inside a woman's home as number of UK snake escapes rise | The Sun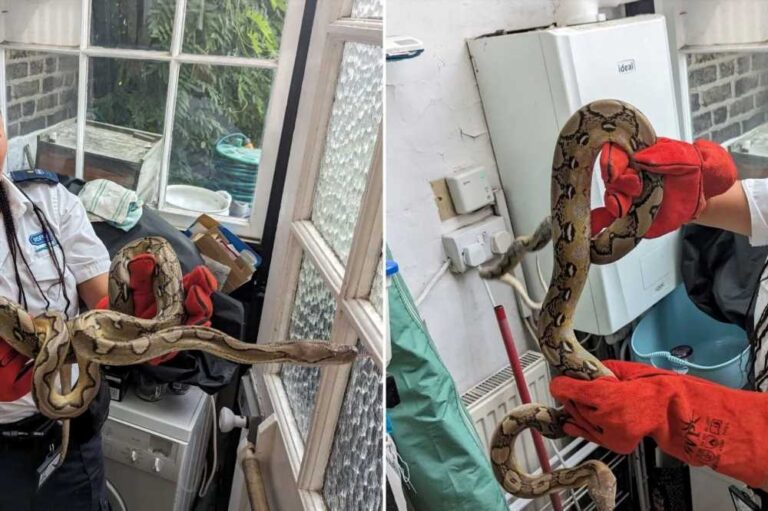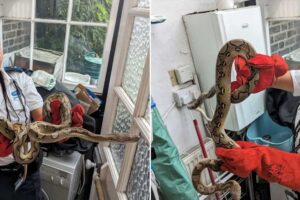 BRITS have been given an urgent warning after a 5ft python was discovered inside a woman's home.
It comes as the number of snakes escaping in the UK is on the rise.
A nanny got the shock of her life when she discovered the snake curled up in the family's kitchen.
The reticulated python was sitting on top of the boiler at the property in Tooting, South London.
The shocked nanny called the RSPCA who came round to remove the reptile which they believe had been abandoned and crawled in to the home.
Animal Rescue Officer Abigail Campbell attended the house in Lucien Road along with fellow RSPCA officer Mat Hawkins on September 13.
Read More on Snakes
LIVING WILD
I live off grid in shack – it's infested with SNAKES but the views are worth it
SLIPPERY CUSTOMERS
I'm a 4ft 10in snake catcher – I wrangle beasts bigger than me
She said: "The nanny took Mat and I through to the kitchen, she was quite scared of the snake so kept well back.
"When I looked into the room I saw the python curled up on top of the kitchen boiler.
"He was most likely up there as it would have been the warmest part of the house and snakes need external heat sources to regulate their body temperature.
"The nanny believes he got into the boiler room through a gap in the wall from the garden. We believe he has either escaped or was abandoned nearby.
Most read in The Sun
ROAD RAGE FURY
Foul-mouthed motorist unmasked after hurling horrific abuse at driver
SICKO FANS
Cops arrest two after football yobs 'taunt' fans with Bradley Lowery pic
HELL STATE
Torture, beheadings & gang-rapes: how rural region became militant-run warzone
hot water
Holly Willoughby 'told not to wear a bra' by kids TV bosses in new misogyny row
"We did put up 'Animal Found' posters up around the area and we have not had anyone call in so are leaning towards the assumption he was abandoned.
"He was slightly skinny. I gave him a nudge just to make sure he wasn't aggressive but he was very calm and allowed me to pick him up no problem, although he did cling on to the boiler pipe very tightly, he was very strong.
"He was very chilled and became somewhat lively once he had been picked up, looking around and smelling the air.
"He was placed in a snake bag where he chilled out again and curled up. We took him to South Essex Wildlife Hospital where he remains now.
"Sadly it is not unusual for us to be called to collect an abandoned snake.
"We believe many people are unaware of how much of a commitment these animals are when they take them on, and we suspect the reality of caring for them has become too much in these cases.
"This is why we would encourage anyone thinking of getting an exotic pet to find out as much as possible about the animal's needs and whether they're the right pet for them.
"It is so sad as people who are struggling to cope could simply ask for help and advice which is why the RSPCA has launched its dedicated cost of living web pages."
Many of the snakes the RSPCA's officers are called to collect are thought to be escaped pets.
The charity would always recommend owners invest in an enclosure suitable for the particular species and that the enclosure is kept secure and locked if necessary when unattended.
Reptiles, particularly snakes, can be extremely good escape artists and will take the opportunity of a gap in an enclosure door, or a loose-fitting lid.
If anyone loses a snake there are a number of lost and found pet websites where details can be logged, including PetsLocated.
It is possible to microchip snakes and the RSPCA would recommend that owners ask their exotics vet to do this, so that snakes can be easily reunited if lost and found.
Figures from UK Pet Food show the number of snakes being kept in homes has rocketed from 500,000 to 700,000 over the past 12 months.
Pythons, boa constrictors and corn snakes are the three most popular species to keep.
The RSPCA said it received 1,031 reports involving reptiles last year.
The problem is worst during the summer months as they become more active with the warmer temperatures.
Britain has three snakes which are native to the country: the adder, which is venomous; the grass snake, which is harmless and often found in gardens; and the smooth snake.
Another reason why more snakes escape in the summer is that some owners take them outside to take advantage of the natural sunlight, which causes them to warm up and move quickly, the RSPCA said.
Evie Button, the RSPCA's senior scientific officer, previously said: "Many of the snakes the RSPCA's officers are called to collect are thought to be escaped pets.
|But sadly, we also have to deal with a lot of abandoned snakes. We find that many people are unaware of how much of a commitment these animals are when they take them on, which we believe contributes to the hundreds of animals every year who have sadly been abandoned when their owners can no longer meet their needs.
"Exotic pets such as snakes often end up in the RSPCA's care after people realise they're not easy to care for, or the novelty wears off."
READ MORE SUN STORIES
HUGH LOVE SPLIT
Downton Abbey star Hugh Bonneville splits from wife of 25 years
RED HOT
My Mum, Your Dad's Natalie shows off sideboob in swimming pool after split
In June this year, Birmingham cops were shocked when they encountered a boa constrictor slithering across the road.
In August last year, a dad got the fright of his life when he discovered a 10ft-long boa constrictor curled up in his wood store.

Source: Read Full Article