Shock moment brawl erupts at McDonald's as shirtless man throws wet floor sign & chair in attack leaving two staff hurt | The Sun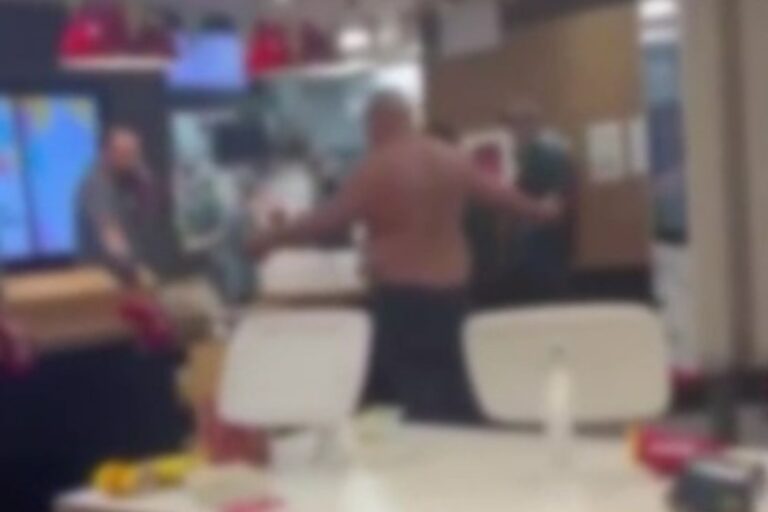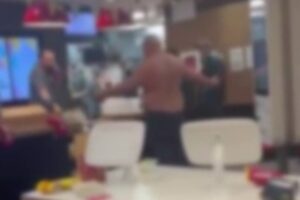 THIS is the shocking moment a shirtless thug leaves two in hospital after hurling a stool and wet floor sign in McDonald's.
Alarms wail and screams fill the air as the tubby lout goes berserk during a confrontation in South Wales.
He leaves the fast-food joint in Baglan, near Port Talbot, before returning with three others.
One thug appears to shout "come on then" before a brawl erupts in front of terrified customers.
The shirtless thug then grabs a red stool, hurling it through the air towards the counter.
It narrowly misses overhanging Maccies menus before striking a group of people.
Read More crime stories
DOUBLE DEATH
Driver dies after being pulled over by armed cops probing 'murder' of man
THE LOST GIRL
Inside the appalling murder of missing teen Charlene Downes in Blackpool
A yellow wet floor cone is then catapulted at the group by the bald attacker.
Did you see what happened? Get in touch: [email protected]
It was one of two incidents that exploded at the Golden Arches restaurant last Saturday.
The other appeared to involve a group of young men tussling with two staff.
Most read in The Sun
FINAL GOODBYE
Home And Away star Johnny Ruffo dies aged just 35 after brain cancer battle
WHERE EVIL BEGAN
Inside lair where Hamas plotted Israeli kibbutz atrocity with 3D model
GET THEM IN
I'm A Celeb official line-up as Nigel Farage and Britney's sis head into jungle
SHOCK EXIT
Carol Vorderman fights back tears after being sacked by BBC
Police were called to the restaurant on Old Road just before 7.55pm.
Four men – a 20-year-old from Chester, a 27-year-old and 53-year-old from Briton Ferry and a 24-year-old from Aberavon – were arrested on suspicion of affray.
They have all been bailed for further enquiries.
Footage of the incidents were quickly shared online.
One person suggested the Baglan outlet was the "worst McDonald's in Wales".
Another simply told the thugs involved to "grow up."
A spokeswoman for South Wales Police said: "Two members of staff were injured in the incident and attended hospital as a precaution.
"This matter is now under investigation and it is inappropriate to comment further."
Read More on The Sun
GET THEM IN
I'm A Celeb official line-up as Nigel Farage and Britney's sis head into jungle
CLOSING TIME
Major DIY homeware chain to shut store doors permanently before Christmas
A McDonald's spokesperson added: "We are aware of the incident that occurred on Saturday evening.
"The safety and security of our people and customers is our absolute priority and we will be supporting the Police with their ongoing investigation."
Source: Read Full Article