Shocking moment thugs beat up man in the street as second victim lays unconscious nearby | The Sun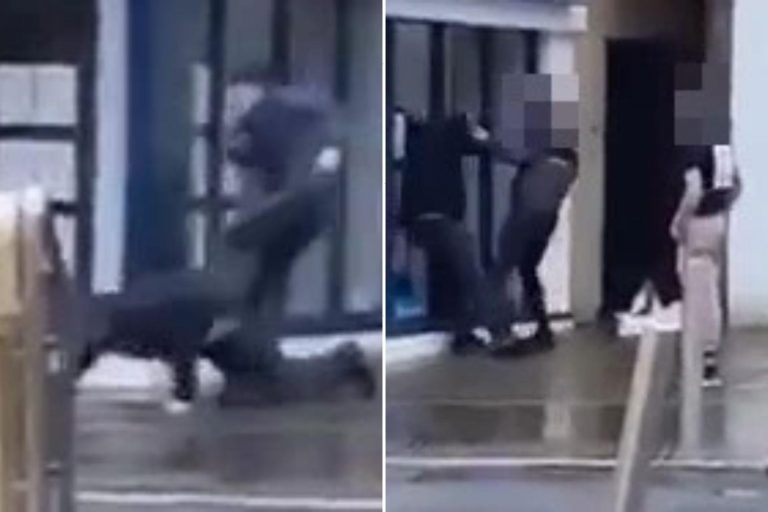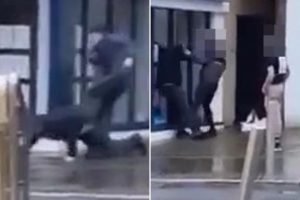 THIS is the shocking moment thugs punched and kicked a man in the street while a second victim lay unconscious nearby.
The vicious high-street assault happened opposite the Ebbw Vale police station in Gwent, Wales.
In footage posted online, a man can be seen lying unconscious on the ground near the tyres of a passing car, while three thugs surround another man on the pavement.
They take turns to throw punches at his face and stomach before he falls to the ground.
One of the thugs then kicks the fallen man in the face, knocking him out.
The three yobs then walk away calmly, stepping over the injured man.
Read More UK News
Woman suddenly dies at home as man arrested after cops called in early hours
Moment man sets car alight before flooring 'owner' with sucker punch to face
In a Facebook post, a friend of the victim said that he was in one of the high-street shops before he allegedly heard a commotion as the thugs attacked his friend, who was smoking outside.
When he went outside to help his friends, the group attacked him as well.
Most read in The Sun
'Deeply in love' couple, 19 & 20, found dead cradling each other after vanishing
Orca the Lagotto Romagnolo wins Best in Show on day 4 of Crufts
Shocking vid shows mourners fighting with machetes after van chase at cemetery
Love Island's Maya Jama makes massive blunder as she reveals dumped Islanders
Many Gwent residents were shocked by the brutal assault.
Angela said: "What are they, the Ebbw Vale mafia? Absolutely shocking behaviour."
Nic said: "Makes me literally sick to my stomach. That's right opposite the police station as well, isn't it?"
Deb said: "Hope the little gangster wannabes are soon caught."
Gwent Police said: "We received a report of an assault in Bethcar Street, Ebbw Vale at around 5.55pm on Saturday 11 March.
"One suspect has been identified and active enquiries are ongoing.
"We are thankful for details already provided by the public and ask for anyone with information who hasn't already spoken to us to do so."  
It comes after CCTV captured by a stunned homeowner in Leicester showed the shocking moment a man threw liquid over a car and set it alight before flooring its "owner" with a sucker punch to the face.

Source: Read Full Article