Thug who sprayed PC with face and threatened him with pistol is jailed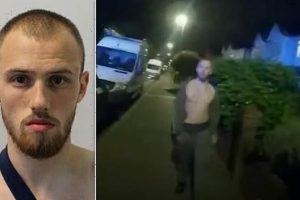 Moment man sprays ammonia in face of police officer before threatening him with a gun – as attacker is jailed for 16 years
James Boyle sprayed PC Samuel Goard with ammonia, temporarily blinding him
As he was being chased through Mitcham, Surrey, Boyle pulled out a gun at cops
The dramatic altercation on June 17 2022, was captured on body-worn camera
This is the shocking moment a bare-chested thug sprayed a police officer in the face with ammonia before threating him with a pistol. 
James Boyle has been jailed for 16 years following the attack against PC Samuel Goard on June 17, last year. 
Boyle had been spotted acting suspiciously around parked vehicles in Commonside East, Mitcham, in Surrey.   
Body-cam footage, revealed for the first time today, showed the 22-year-old strolling towards the officer – before then reaching into his right pocket spraying him with the chemical, temporarily blinding him. 
PC Goard said: 'At the time of the incident I was in complete fear for my life. I did not know what the male had sprayed at me.
This is the moment James Boyle, 22, was caught on police body camera spraying an officer with ammonia before then pulling out a gun 
'Thoughts of acid, ammonia or any liquid that could have caused me irreversible injuries to my eye, sight, or permanent disfigurement to my face overcame me.
'My thoughts turned to my son at home, was he going to grow up only knowing me as having a disfigured face, will he recognise me when I go home?'
PC Goard was temporarily blinded in one eye but managed to use his PAVA spray against his attacker, causing him to flee 
After he fled, PC Goard and another Met police officer, PC George Garner, chased Boyle on foot.
As they approached, Boyle pulled out a handgun from his waistband and pointed it toward the officers.
Without firing he managed to keep running and escaped on foot.
PC Garner said: 'When he [Boyle] pulled the gun on me I felt powerless and had to let him run away.
'I was left with the same recurring thought – if it was so easy to point a gun at a police officer what would he do to a member of the public?
The thug was seen approaching PC Samuel Goard on June 17, last year. The officer could be heard asking Boyle to remove his hand from his pocket
Once Boyle (pictured left) sprayed the officer, he fled the scene – before then being chased down by another officer, PC George Garner (right). Boyle then pulled out a gun before escaping
Boyle went on the run but was eventually caught and arrested by police on June 24 last year 
'I returned to work the day after the incident. I love my job and didn't want what happened to affect me or make me fearful but it is a terrifying reminder that the most routine call could end up being something that could change my life or the lives of my loved ones forever.'
After trawling through CCTV footage, the police were able to identify their suspect.
He was found and arrested on June 24 last year. On his arrest he was found with a knife, an axe and a bottle of ammonia in his rucksack.
During a search of his home, they discovered the same grey tracksuit top Boyle had been wearing on the night of the incident.
The investigation also revealed that the firearm Boyle had used had been fired before the police arrived at the scene that night.
The live rounds of ammunition that were recovered and the bottle of ammonia all provided forensic matches to Boyle.
The man from Brixton was sentenced to 16 years in prison at Kingston Crown Court on March 13.
On his arrest he was found with a knife (above), an axe (below) and a bottle of ammonia in his rucksack, the Met Police said 
He pleaded guilty at the same court on 11 November 2022 for a multitude of offences.
These included, administering a poison with intent, using a firearm with intent, assault and having a corrosive substance in a public place.
He was also charged for possession of various bladed articles and of a firearm with intent to cause fear of violence.
Detective Chief Inspector Rebecca Woodsford, from Specialist Crime, said: 'Boyle is an extremely dangerous offender and we are pleased that the overwhelming evidence gathered during our investigation left him with no choice but to plead guilty.
'We have no doubt that he would have caused further harm was he not identified and arrested so quickly.
'My thoughts remain with the officers involved in this incident who are fortunate not to have suffered lasting injury.
'Police officers routinely put themselves in harm's way but no-one should have to come home from work having being assaulted in the course of their duty.'
DCI Woodsford added: 'Tackling violent crime is one of our top priorities and this includes those who assault our staff.
'Abuse of emergency workers is never acceptable and we will always deal robustly with offences of this nature.'
Source: Read Full Article