Vladimir Putin may already be DEAD, says President Zelensky in bizarre speech amid cancer and body double claims | The Sun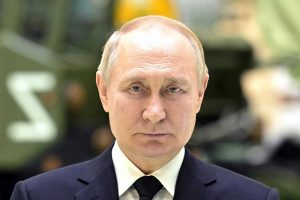 VLADIMIR Putin might already be dead, President Volodymyr Zelensky claimed today in a bizarre speech.
Rumours have been swirling for months about the 70-year-old Russian tyrant's failing health – fuelled by his bloated face and trembling legs.
Bombshell spy documents leaked to The Sun appeared to confirm he has pancreatic cancer and early-stage Parkinson's disease.
Ukraine previously suggested Russia is using body doubles to stand in for Putin – and earlier this month, the country's spy chief claimed he will "die very soon of cancer".
Now Ukrainian leader Zelensky has claimed he might already have died – hinting at the use of green screens.
Speaking at the World Economic Forum in Davos, Switzerland, he said: "I don't quite understand who to talk to and about what.
Read more on Putin
Putin 'considering high-risk' move to escalate war with advanced machinery
Top Putin ally directly threatens West with nuke strikes if Russia loses the war
"I'm not sure that the Russian president – who sometimes appears against a green screen – is actually the right one.
"I don't quite understand if he is alive or whether he makes decisions, or who makes decisions there."
He added: "I just don't quite understand who we are dealing with."
In his speech, Zelensky also heaped pressure on Western allies to give Kyiv more heavy weapons to fight Putin's troops.
Most read in The Sun
Body of teen boy was found buried in makeshift grave with 20 stab wounds
Americans turn on Harry and Meghan as popularity plummets in opinion poll
BBC show scrapped under mysterious circumstances leaving TV insiders confused
Trolls rinse me for my back tattoo but I don't care – it makes sex better
The Kremlin hit back at the Ukrainian's comments about Putin – saying the tyrant "does and will exist".
Kremlin spokesman Dmitry Peskov said: "It is clear that both Russia and Putin are a big problem for Ukraine and for Zelensky.
"And it is clear that purely psychologically, Mr Zelensky would prefer that neither Russia nor Putin existed."
According to Pravda, he said Ukraine should "realise that Russia and Putin do and will exist".
Peskov also addressed speculation about Putin's absence from Russia's annual tradition of plunging into freezing waters to mark Orthodox Epiphany.
The Russian leader has previously joined the yearly dip – with the Kremlin releasing pictures of the occasion.
Yet no images of Putin taking part in the bone-chilling ritual have emerged this year – fuelling further rumours about his failing health.
But Peskov later said: "Today is Epiphany and the president took part in Epiphany bathing in the Moscow region.
"This time there are no photo or video materials, but we are informing you that he followed his tradition."
It comes days after a so-called Kremlin insider claimed Putin could lash out with more nuke threats as his cancer worsens.
Telegram channel General SVR – which claims to be fed information by a Kremlin insider – said Putin has become "withdrawn and laconic".
It also alleged the Russian president is suffering from "weakness, dizziness and lack of appetite" as he is "undergoing therapy with the use of drugs".
According to the reported insider, treatment is having a detrimental effect on his "psycho-emotional state" – which could prompt him to unleash more terrifying threats.
The General SVR previously claimed Putin's doctor had noted a "significant deterioration" in his health.
The channel bases its claims on having sources in Putin's entourage without offering more proof.
Read More on The Sun
Kerry Katona reveals huge hair transformation as she returns to her 'old self'
Warning as popular drinks 'increase your risk of heart attack and stroke'
A senior spy official from Denmark also claimed Putin is suffering from megalomania caused by cancer drugs.
Just last week, the tyrant appeared in pain as he repeatedly rubbed his hand while blasting his deputy prime minister over Russia's humiliation in Ukraine.

Source: Read Full Article