White Supremacists march through Wisconsin Capitol waving swasti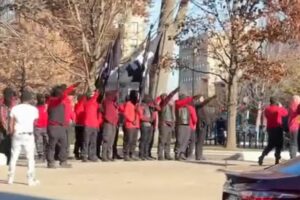 White Supremacists march through Wisconsin Capitol waving swastika flags and using the Hitler salute stunning video shows
Neo-Nazis chanted 'there will be blood' as they walked outside a Wisconsin outside synagogue
Police refused to intervene citing the group's First Amendment rights
A Jewish student says 'I've never felt more disgusted in my life, seeing all of these people that just genuinely want me dead'
Neo-Nazis marched unopposed on Wisconsin's state capitol Saturday waving swastika flags, performing Hitler salutes and leaving onlookers shaking with fear.
Around 20 members of the self-styled 'Blood Tribe' group halted outside a former synagogue chanting 'Israel is not our friend' and 'there will be blood' as state police looked on.
With thousands in town for the Badgers game against Nebraska, the group carried their banners through the center of Madison from the University of Wisconsin campus to Capitol Square.
'My stomach dropped, I felt disgusted, I was outraged, it was horrible,' said Jewish student Jordyn Grover.
'I've never felt more disgusted in my life. Seeing all of these people that just genuinely want me dead.'
Nazi salutes on the streets of Wisconsin as the group marched through Madison on Saturday
The group proudly waved swastika flags as they marched past a branch of Starbucks 
Onlookers were left shaking with fear as the group chanted 'there will be blood' in the streets 
The march took place against the backdrop of the Israel-Hamas war which has sent anti-Semitic incidents spiking across the world and an unprecedented summer of neo-Nazi activity in the US.
Disneyland in Florida was picketed in July by one group waving the Nazi flag and chanting 'Go back to Mexico,' while around a dozen Neo-Nazis waved swastikas and hurled anti-Semitic abuse at those attending a service at the Chabad of Cobb County synagogue, in East Cobb, Georgia.
This time, the group made Wisconsin its target.  
'To see neo-Nazis marching in our streets and neighborhoods and in the shadow of our State Capitol building spreading their disturbing, hateful messages is truly revolting,' said Wisconsin Governor Tony Evers.
'Let us be clear: neo-Nazis, antisemitism, and white supremacy have no home in Wisconsin.
'We will not accept or normalize this rhetoric and hate.
'It's repulsive and disgusting, and I join Wisconsinites in condemning and denouncing their presence in our state in the strongest terms possible.'
Saturday's organizers regard themselves as a hardcore group that rejects white supremacists who call for softer 'optics', according to the Anti-Defamation League.
The group opposes female or LGBT members and was founded by Christopher Pohlhaus, a former US Marine turned tattoo artist who has been linked to the January 6 riots at the US Capitol Building.
This year, the group has picketed drag shows in Wisconsin and Ohio, as well as arriving heavily armed at two Pride events in Toledo and Watertown, performing Hitler salutes and chanting 'Us or the pedophiles'.
In Madison Saturday they halted outside the country's fourth-oldest surviving synagogue building, the Gates of Heaven, before discovering it is not in use.
Rabbi Bonnie Margulis of Wisconsin Faith Voices for Justice, said people living in marginalized communities are now feeling 'very alone and very isolated.'
'We're living in very, very scary times, she told the Milwaukee Journal Sentinel.
'The American Jewish community is very scared right now, as is the Muslim community and the Sikh community, there's no place that we feel safe.'
'Blood Tribe' founder Christopher Pohlhaus at a rally in Florida in September
Neo-Nazi groups are increasingly targeting power stations and sabotaging the nation's critical infrastructure in a bid to destabilize society, a Dailymail.com investigation found earlier this year.
The Anti-Defamation League estimates there are at least 50 loosely affiliated white supremacist groups flooding the country with record amounts of racist propaganda, including fliers, banners, graffiti and laser projections.
Stephanie Fryer of the Madison Police Department, said officers were sent to monitor the incident, but the demonstration was lawful.
'Whether you believe that's what this group is doing or not, it's First Amendment rights,' she added.
There were no arrests made.  
Source: Read Full Article