UN team tours Al Shifa 'death zone' after hospital evacuated by Israeli soldiers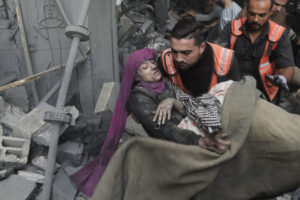 Save articles for later
Add articles to your saved list and come back to them any time.
Khan Younis, Gaza: A United Nations team said that 291 patients were left at Gaza's largest hospital after Israeli troops had others evacuate. Those left included 32 babies in extremely critical condition, trauma patients with severely infected wounds and others with spinal injuries who are unable to move.
The team was able to tour Al Shifa Hospital for an hour after about 2500 displaced people, mobile patients and medical staff left the sprawling compound, the World Health Organisation said, which led the mission.
"Patients and health staff with whom they spoke were terrified for their safety and health, and pleaded for evacuation," the agency said on Sunday, describing Al Shifa as a death zone. It said more teams will attempt to reach the facility in the coming days to try to evacuate the patients to southern Gaza, where hospitals are also overwhelmed.
Israeli troops are staying in the hospital. Israel's military has been searching Gaza City's Al Shifa Hospital for a Hamas command centre that it alleges is located under the facility – a claim Hamas and hospital staff deny.
The mass departure was portrayed by Israel as voluntary, but described by some of those leaving as a forced exodus.
"We left at gunpoint," Mahmoud Abu Auf said by phone after he and his family left the crowded hospital. "Tanks and snipers were everywhere inside and outside." He said he saw Israeli troops detain three men.
Palestinian rescuers evacuate an injured woman that was found under the rubble of a destroyed house following an Israeli airstrike in Khan Younis refugee camp,.Credit: AP
Elsewhere in northern Gaza, dozens of people were killed in the urban Jabaliya refugee camp when what witnesses described as an Israeli airstrike hit a crowded UN shelter in the main combat zone. It caused massive destruction in the camp's Fakhoura school, said wounded survivors Ahmed Radwan and Yassin Sharif.
"The scenes were horrifying. Corpses of women and children were on the ground. Others were screaming for help," Radwan said by phone. Photos from a local hospital showed more than 20 bodies wrapped in bloodstained sheets.
In southern Gaza, an Israeli airstrike hit a residential building on the outskirts of the town of Khan Younis, killing at least 26 Palestinians, according to a doctor at the hospital where the bodies were taken.
Israeli Defence Minister Yoav Gallant said Israel's forces have begun operating in eastern Gaza City while continuing its mission in western areas. "With every passing day, there are fewer places where Hamas terrorists can operate," he said, adding that the militants would learn that in southern Gaza "in the coming days."
His comments were the clearest indication yet that the military plans to expand its offensive to southern Gaza, where Israel had told Palestinian civilians to flee early in the war.
The evacuation zone is already crammed with displaced civilians, and it was not clear where they would go if the offensive moves closer.
What led to the Shifa Hospital evacuation wasn't immediately known. Israel's military said it was asked by the hospital's director to help those who would like to leave do so, and that it did not order an evacuation. But Medhat Abbas, a spokesperson for the Health Ministry in Hamas-controlled Gaza, said the military ordered the facility cleared and gave the hospital an hour to get people out.
Twenty-five of Gaza's hospitals aren't functioning due to a lack of fuel, damage and other problems, and the other 11 are only partially operational, according to the World Health Organisation.
Israel has said hospitals in northern Gaza were a key target of its ground offensive, claiming they were used as militant command centres and weapons depots, which both Hamas and medical staff deny.
The war was triggered by Hamas' October 7 attack in southern Israel, in which militants killed about 1200 people, mostly civilians, and abducted some 240 others. Fifty-two Israeli soldiers have been killed.
More than 11,500 Palestinians have been killed, according to Palestinian health authorities. Another 2700 have been reported missing, believed buried under rubble.
Prime Minister Benjamin Netanyahu said that the Israeli military would have "full freedom" to operate within the territory after the war. The comments again put him in conflict with US visions for a post-war Gaza.
AP
Get a note directly from our foreign correspondents on what's making headlines around the world. Sign up for our weekly What in the World newsletter.
Most Viewed in World
From our partners
Source: Read Full Article