Who was Charles Sabini? | The Sun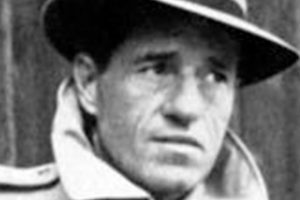 HIT TV show Peaky Blinders first introduced us to the character Charles 'Darby' Sabini.
While most characters in show were loosely based on facts of the period, Sabini was one of the few characters based on a real-life character.
Who was Charles Sabini?
Charles Sabini comes from Clerkenwell Green, London.
His actual name is Ottavio Handley and was born on July 11, 1888.
Sabini had an Italian immigrant father while his mother was English.
The area he grew up was known as the "Little Italy" of London.
READ MORE ON PEAKY BLINDERS
Emery used Peaky Blinders to improve his English while he was Arsenal manager
Peaky Blinders boss reveals major film details as show triumphs at NTAs
What was Charles Sabini known for?
He became known by many as Darby Sabini, as with many of the gangs of the time he started off as a pickpocket.
Sabini was then attracted by the vast amounts of money available in the extortion of bookies at the racecourses.
This led to violent clashes with other gangs, such as Billy Kimber, as they battled to control the tracks.
In 1921, the infamous "Racecourse Wars" took place between Kimber's gang and the Sabinis.
Most read in The Sun
Girl, 15, 'stabbed to death' & boy, 16, hurt with teen arrested for 'murder'
Six British children found living in cellar in Austria with 54-year-old man
Flybe cancels ALL scheduled flights as British airline stops trading
Harrowing moment man screams for mum as cops batter him in attack before death
Eventually, the two rival gangs declared a truce and shared the spoils.
The gang wars flared up again which led to a newspaper running an article exposing the criminal empire of Darby Sabini.
He looked to sue the publication but did not attend the hearing as he allegedly could not afford the £75 cost of a solicitor which led to total costs of £775 being filed against him.
The whole action resulted in Sabini being declared bankrupt.
When did Charles Sabini die?
He died on October 4, 1950 aged 62.
By this stage of his life, he had relocated to Brighton and had become a bookie himself.
It made sense as it was certainly a profession he had been closely tied to for the majority of his life.
Who is Charles Sabini in Peaky Blinders?
In the BBC show, Darby Sabini as he was known, was played by British-born Australian actor Noah Taylor.
He portrayed the character who took on the Shelby family in the hit TV show, with explosive outcomes.
Read More on The Sun
People are just realising what the 'i' in iPhone stands for
I live in the 'world's luckiest town' – I took home £370m & neighbours won big too
Taylor has had an acting career spanning some 37 years and has featured in some huge titles.
Aside from Peaky Blinders, he has featured in such titles as Tomb Raider, Vanilla Sky and Game of Thrones.
Source: Read Full Article