World leaders condemn Russia's 'barbaric' violence amid crisis talks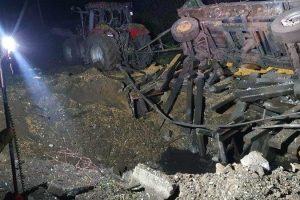 Key points
Polish media reported that two people died after two suspected Russian rockets hit Przewodow, north of Lviv.
The explosions occurred during Moscow's biggest barrage of missiles aimed at Ukraine yet.
Global leaders gathered for the G20 meeting in Bali, Indonesia, where US President Joe Biden said it was possible the missile was not fired from Russia. 
Initial findings suggest that the missile that hit Poland was fired by Ukrainian forces at an incoming Russian missile.
Kyiv/Warsaw/Bali: World leaders have condemned Russia's latest round of "barbaric" violence following a barrage of attacks on Ukraine and crisis talks over a strike that killed two people in Poland.
US President Joe Biden and counterparts from G7 and NATO nations held emergency talks on the sidelines of the G20 summit after a missile struck a farm in Przewodow, near Poland's border with Ukraine, as the Kremlin fired more than 100 missiles in the heaviest attacks in nearly nine months of war.
Firefighters work to put out a fire after two residential buildings were hit in the Pecherskyi district in Ukraine's capital Kyiv as nationwide air alerts sounded across the country on November 15.Credit:Ukrainian State Emergency Service
NATO chief Jens Stoltenberg said on Wednesday there was "no indication" that a missile that struck Poland was a "deliberate attack", saying it was likely fired by Ukraine while defending itself against a barrage of Russian weapons.
He told a press conference in Brussels that the western military alliance also had "no indication that Russia is preparing offensive military actions against NATO".
"Our preliminary analysis suggests that the incident was likely caused by Ukrainian air defence missile fired to defend Ukrainian territory against Russian cruise missile attacks."
But, he added: "This is not Ukraine's fault. Russia bears responsibility for what happened in Poland yesterday because this is a direct result of the ongoing war, and the wave of attacks from Russia against Ukraine."
NATO Secretary General Jens Stoltenberg.Credit:AP
As well as strikes on Kyiv, Russia hit 10 regions including the western cities of Lviv and Rivne, which damaged apartment buildings and power infrastructure, causing widespread blackouts and deaths.
Poland convened emergency talks with its allies after what Warsaw said was a strike by a "Russian-made missile" in the village of Przewodów at 3.40pm (Ukraine time) on Tuesday. Neither its president nor prime minister confirmed allegations that the missile was fired by Russia during a midnight news conference in which they both appeared to avoid statements that could escalate tensions with Moscow.
Western intelligence suggests that the missile that struck Polish territory yesterday was fired by Ukraine in an attempt to target incoming Russian missiles. Photographs posted on social media showed a damaged farm vehicle lying on its side next to a large crater. Polish media reported the casualties were farm workers.
"There is no conclusive evidence about who fired the rocket," President Andrzej Duda said after an emergency security meeting of the Polish government. Duda also referred to the missile strike as a "one-off incident".
US President Joe Biden and leaders of G7 and NATO nations met while in Bali for G20 to discuss the attack.Credit:AP
Biden said there was preliminary information that contested the missile was fired from Russia.
"It is unlikely in the lines of the trajectory that it was fired from Russia but we'll see," he told reporters, adding that there was a need to "completely investigate" the incident. He described the latest wave of Russian missile attacks as "totally unconscionable".
"There was total unanimity around the table" in support for Poland, Biden added after the emergency meeting with the leaders of the UK, France, Germany, Canada, Japan, Spain, Italy and the Netherlands, plus the presidents of the European Council and European Commission.
Stoltenberg said Ukraine had the right to shoot down missiles that were targeting Ukrainian cities and critical infrastructure.
Volodymyr Zelensky, the Ukrainian President, had accused Russia of a "very significant escalation" of Russia's invasion and committing "terror" on another country.
"The longer Russia feels this immunity, the more threats there will be against anyone within reach of Russian missiles," he said. "Firing missiles at NATO territory is a Russian attack on collective security. This is a very significant escalation. We must act."
Russia's defence ministry immediately denied responsibility, saying claims the missile was fired by its forces were a "deliberate provocation with the goal of escalating the situation".
The Polish foreign minister summoned the Russian ambassador for "immediate detailed explanations", while Poland's representative to the UN wrote on Twitter that he would raise the issue at the Security Council.
Prime Minister Anthony Albanese after meeting with EU leaders separately said: "Russia's reckless and dangerous use of force promotes danger for the entire region and we've seen that overnight and I send my condolences to Poland on the loss of life," he said.

Russian President Vladimir Putin's forces, humiliated after withdrawal of troops from Kherson, fired three waves of missiles from the areas in or around the Caspian Sea and Black Sea. The Kyiv region was targeted for hours on Tuesday afternoon (Ukraine time) in a strike that was bigger than the October 10 attack which involved 84 missile hits.
At least one death was reported in the capital but emergency workers were still on site.
A spokesperson for the Ukrainian Air Force, Yuri Ihnat, said: "The Russians have fired around 100 missiles during this massive attack. They've outdone the 10th of October when they fired 84 missiles."
Power outages were confirmed in the regions of Zhytomyr, Ternopil, Lviv, Odesa, Kharkiv, Zap, Rivne, Volyn, Dnipro and Poltava. Multiple missiles landed in the Pechersk district, in the centre of Kyiv, hitting two residential buildings. Another missile hit the Holosiyivsky district in the south of the city.
In a letter released by the European Commission, G7 leaders said from Nusa Dua in Bali: "We condemn the barbaric missile attacks that Russia perpetrated on Ukrainian cities and civilian infrastructure on Tuesday".
"We offer our full support for and assistance with Poland's ongoing investigation. We agree to remain in close touch to determine appropriate next steps as the investigation proceeds."
Get a note directly from our foreign correspondents on what's making headlines around the world. Sign up for the weekly What in the World newsletter here.
Most Viewed in World
From our partners
Source: Read Full Article