Solana-based P2E Game MonkeyBall Unveils $MBS Trading, Announces NFT Drop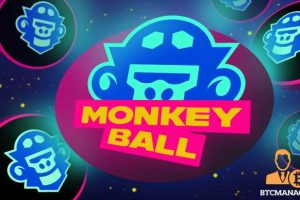 MonkeyBall, the next-gen esports game on the metaverse today announced the launch of its $MBS token.
$MBS Token Goes Live
Highly-anticipated play-to-earn (P2E) metaverse game MonkeyBall has launched its native $MBS token.
The token can be traded across different exchanges and trading platforms, the announcement adds.
The $MBS token comes with a wide array of utilities that make it central to MonkeyBall's in-game economy.
For instance, the token gives its holders access to the in-game store, buying Breeding capsules to create new MonkeyBall Monkeys, and a lot more.
To celebrate the $MBS token launch, the MonkeyBall team will now focus on the upcoming MonkeyBall NFT Drops.
What does the NFT Offer?
The benefits of holding a MonkeyBall NFT are endless.
To begin, holding an NFT will ensure its holder can play the upcoming MonkeyBall game. In addition, the NFT holders will enjoy exciting features that launch before the game goes live.
The following are some of the benefits of holding MonkeyBall NFTs.
Pioneers Gear-Up Camp: a way to collect consumable game items and supplies for free.
In-Game Store: buying various heavily discounted consumable items and breeding capsules to train Monkey players.
Breeding season: the ability to buy new Breeding captures to create new generations of MonkeyBall Monkeys. Bred Monkeys can be used as players or sold to other players.
PvE Game Mode: Playing games against the environment to better understand the game's mechanics and how to level up characters.
Anticipation Continues to Rise for MonkeyBall
The upcoming NFT drop for MonkeyBall will feature Gen-0 Monkeys. By breeding Gen-0 Monkeys, players can create Gen-1 Monkeys, and so forth. The objective of the game is to ensure sufficient teams and leagues to ensure matchmaking.
Notably, Monkeys will have several appearances, core game skills, perks, rarity levels, gameplay skills, and more.
Over the past few months, MonkeyBall has managed to garner a lot of attention from the wider crypto and blockchain gaming industry.
For instance, Draftkings'founders, along with Solana Capital, Republic, NFX, iAngels, and Longhash, backed MonkeyBall through a $3 million round in October 2021.
Further, the MonkeyBall team raised an undisclosed amount of funding from Alameda Research, YGG, and other noted crypto investment firms in December 2021. Incidentally, both the rounds complemented MonkeyBall's initial DEX Offering (IDO) on Starlaunch in November 2021.

Built atop the high-throughput Solana blockchain, MonkeyBall is developed with the Unity game engine as a P2E soccer game where players manage a team of four monkeys playing against other users.
The game allows players to earn $MBS tokens for every game they win. The players can then use the $MBS tokens to purchase stadiums and attend other players' matches.
Join the Community:

Discord | Telegram | Twitter | Youtube | Twitch | Facebook | Instagram | Reddit
Related posts:
Source: Read Full Article