Incoming Wave Could See Bitcoin Lose 50% Of Its Current Price Or Spiral In Gains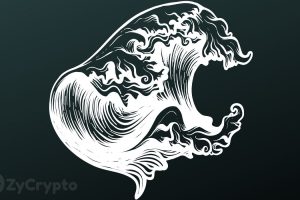 Bitcoin has had an interesting run this past week. Although failing to reclaim the $42,000 high, it still remains promising as analysts observe an incoming volume around the $35k level. The digital asset is currently trading at a press time price of $34,915, a lower correction from last week's $37,394 high. Bitcoin has been facing intense pressure, as it lost momentum on multiple occasions around the $36,700 and $37,000 support levels.
The contracting triangle which formed around the $30,000 mark is a pointer to a possible upside breakout, should there be a spike in incoming volume. An upside breakout could send Bitcoin above the rooftop again and position it for yet another $40,000 price breakout. It is important to keep in mind that this potential upswing does not absorb Bitcoin from facing bear pressure. Until the $36,000 support is broken and Bitcoin successfully break resistance upwards, the break out remains unconfirmed. 
On the other hand, the on-chain analysis presents data that has fueled some mixed market sentiments. New data from On-chain analytics platform Glassnode, reveals that investors are still in excitement over the price rally from last year's December. Additionally, it was noted that a steep price correction always preceded this jubilation, but not so fast. It takes about 1 year, for this bear trend to materialize. 
It is estimated that Bitcoin could risk losing 50% of its current price, and prices could potentially drop to $18,000. In contrast, a $41,000 price break out could clear the bearish barriers and an up climb to $47,000, and progressively $53,000 could be recorded in the near term.
Although Bitcoin is yet to capture $50,000 as predicted, Bitcoin's ability to remain above $20,000 is an impressive sign that the market maturation process is already ongoing. Only a couple of years ago, analysts debated the possibility of Bitcoin preserving gains after recording new highs. Now, it seems like those "superficial" Bitcoin buy that led prices to crumble almost immediately there was a breakout, has been replaced by long term buyers. Clearly, as previously predicted, the market must make an intense price correction in order to revisit the $20,000 level.
Meanwhile, as Bitcoin continues to maintain its ties with the U.S politics, crypto-spectators have observed that the $1.9 billion spending plan that the incoming U.S President Joe Biden has proposed could steer the path for more Bitcoin adopters. Certainly, this year will record yet another flock of traditional investors looking to Bitcoin for wealth preservation.
Source: Read Full Article