$400 Mln To Counter China's Threat, $1.7 Bln For Ukraine, In US FY 2024 Budget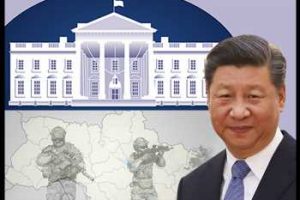 President Joe Biden has earmarked $400 million in discretionary funding to counter potential threats from China, and $1.7 billion to help Ukraine win the war against Russia in his Fiscal Year 2024 Budget.
In addition, the Budget includes a new, multifaceted interagency mandatory proposal to outcompete China. This includes $2 billion to support high-quality, strategic "hard" infrastructure projects globally; $2 billion to strengthen Indo-Pacific economies and support U.S. partners in pushing back against predatory efforts; $2 billion for a new revolving Fund at DFC to boost equity investments; and $7.1 billion over 20 years to support the renewal of the Compacts of Free Association (COFA).
China is the United States' only competitor with the intent to reshape the international order and the economic, diplomatic, military, and technological power to do it, accordibng to the White House.
In response to these unprecedented challenges, the Budget requests resources to outcompete China and advance American prosperity globally.
The Budget supports a new $6 billion mandatory proposal to strengthen the U.S. role in the Indo-Pacific and to advance the U.S. economy, which will allow the U.S. to focus on new and critical investments.
To counter China's predatory financing, the budget offers countries a positive alternative, "which will simultaneously expand markets and opportunities for U.S. businesses; create a new U.S. International Development Finance Corporation's equity revolving fund to support highly developmental investments to empower early and growth-stage companies from low and lower-middle income countries that would otherwise not be able to take on debt," the White House says.
In line with Washington's new policy of "invest, align, and compete" with China, the budget envisages an expanded investment of $3.2 billion in the Indo-Pacific region.
The Budget continues to increase the Defense Department's security cooperation funding planned for the Indo-Pacific region.
The Budget also supports investments to accelerate critical weapons and munitions production lines; develop capabilities like long-range strike, undersea, hypersonic, and autonomous systems; and increase resiliency of U.S. space architectures.
While focusing on maintaining robust deterrence against China and Russia, the Budget continues support for Ukraine, the United States' strong alliance with NATO nations, and other European partners. The budget has prioritized funding to enhance the capabilities and readiness of U.S. forces, NATO allies, and regional partners in the face of continued Russian aggression.
Biden's budget request for the Foreign Affairs Budget includes $4.2 billion for the climate crisis; $1.2 billion for food insecurity; $10.9 billion for global health; more than $10.5 billion to support global humanitarian needs, including resources to rebuild the U.S. Refugee Admissions Program and resettle 125,000 refugees; and more than $1 billion to address the root causes of migration from Central America.
Source: Read Full Article