Bitcoin price explosion: Cryptocurrency breaks $34,000 mark in major surge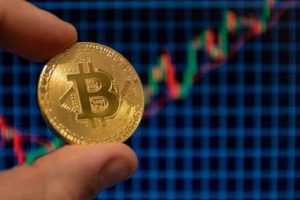 Bitcoin: Cryptocurrency surges by over five percent
Bitcoin has jumped 300 percent since this time last year, despite US economist Nouriel Roubini warning it was a "pure speculative asset and bubble with no fundamental value". This view is challenged by influential investors such as hedge fund managers Paul Tudor Jones and Stan Druckenmiller, and entrepreneur Michael Saylor, who are shifting to bitcoin as an alternative store of value to gold. The cryptocurrency soared by 18 percent on Sunday, reaching a new all-time high above $34,000.
The performance of the cryptocurrency in 2020 was in a league of its own when compared to gold's 25 percent and the 16 percent spike in Wall Street's 500 stockmarket index.
In late December, Fundstrat analysts said: "Despite the rise in prices and valuations, we believe the conditions remain in place for the rally to continue."
Fundstrat said that the latest money-printing by the US Federal Reserve could feed the demand for bitcoin.
The world's preeminent cryptocurrency is becoming sought after by pension and sovereign wealth funds as an alternative store of value, Norway's Sovereign Wealth Fund have already indirectly acquired 600 bitcoin.
We will use your email address only for sending you newsletters. Please see our Privacy Notice for details of your data protection rights.
Bitcoin received a big boost in sentiment after PayPal allowed users to hold the cryptocurrency in their digital wallets.
Another boost to the value of the digital currency happened when online exchange Coinbase filed with regulators to go public in December.
Because of monetary stimulus moves by central banks, such as the US Federal Reserve, investors are duly worried about the precarious value of fiat currencies.
Many investors are converting their fiat wealth into assets such as gold and bitcoin.
JUST IN: Bitcoin prices surge to over $10,000 as investors ditch other cryptocurrencies
Bitcoin pioneer Max Keiser discussed the rising gold price.
Speaking on the tech Catalina podcast, Mr Keiser said: "When you say gold is making new all-time highs against the Argentine peso.
"The price of gold doesn't move, it is the Argentine peso that is collapsing.
"When gold is making a move against all major currencies around the world, it's because gold is making a move against those currencies, it is because those currencies are collapsing."
DON'T MISS:
Chinese government ramps up trials for digital currency to rival the dollar [REPORT]
Artist praised by Michael Caine launches 'Universe' collection for cryptocurrency market [REPORT]
Martin Lewis' Bitcoin warning revealed: 'You could lose everything!' [INSIGHT]
"The US dollar has room to become a lot weaker.
"So gold and the bitcoin price will move up relative to fiat money, relative to the US dollar."
Last month investment bank JP Morgan stated: "Even a modest crowding out of gold as an 'alternative' currency over the longer term would imply doubling or tripling of the Bitcoin price."
The major financial services company added: "The potential long-term upside for Bitcoin is considerable as it competes more intensely with gold as an 'alternative' currency we believe, given that Millenials would become over time a more important component of investors' universe."
Source: Read Full Article