Kevin Bacon Urges "Let's Make A Deal" In Ongoing Strikes As He Unveils 'Six Degrees' Podcast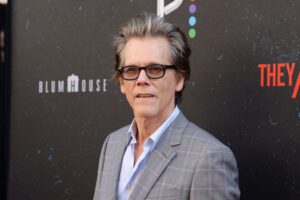 Kevin Bacon addressed the ongoing dual Hollywood strikes today as he unveiled his new podcast Six Degrees with Kevin Bacon.
In an interview on Today show where he announced the podcast, Bacon was asked about the current status of the strikes and a response to those who would say it's about rich actors who just want to make more money.
"In terms of rich actors, a very small percentage of our union is doing very, very well. Most of the people are living hand-to-mouth, those are the people that we are striking for," Bacon said. "My situation is not the same as the majority of our union. When it comes to writers and actors, we are artists, so all of our membership are artists so if you do well you get to make your art. On the other side, they're dealmakers, so if they do well, they get to make a deal. So let's make a deal, let's get it done."
Related Stories
Analysis
As Success-Based Residuals Dominate U.S. Labor Strife, Could Netflix's European Payout Structure Be The Blueprint To Solve Strikes?
Guilds
SAG-AFTRA Interim Agreements: Full List Of Movies And TV Series
Bacon announced his new podcast Six Degrees Tuesday, in celebration of International Day of Charity, in which he "will encourage listeners to make a difference in the world around them and will help them to lean in, learn and be inspired to act."
In each weekly episode, Bacon chats with his celebrity connections about their lives, passion projects and favorite charitable causes. Every episode also features the changemakers behind the charitable organizations, who share inspirational stories about their efforts to motivate and bring about positive change in their communities.
Upcoming guests include Mark Ruffalo (The Solutions Project), Matthew McConaughey (Just Keep Livin'), Penn Badgley (Tahirih Justice Center), Idina Menzel (A BroaderWay),  Alyssa Milano (UNICEF), Jewel (Inspiring Children's Foundation), Ron Funches (School on Wheels), among others.
The podcast is produced by Warner Bros. Unscripted Television in association with Telepictures and in collaboration with iHeartPodcasts and Bacon's nonprofit SixDegrees.org.
Six Degrees with Kevin Bacon is executive produced by Bacon, Stacy Huston, Coltan Gibby, SixDegrees.org and Warner Bros. Unscripted Television. It's distributed by iHeartPodcasts and is available now on the iHeartRadio app and all major podcasting platforms. Episodes will be released weekly each Tuesday.
Must Read Stories
WB Discovery Expects Earnings Hit Of Up To $500M From Strikes This Year
Linklater Interview; Woody Allen Applause & Protest; Hamaguchi; 'Priscilla'; Reviews
'Equalizer 3' Heading To Second-Best Labor Day Opening Ever With $42M+
Actors Turn To Reiki, Recording & Teaching To Lessen The Financial Burden Of Strikes
Read More About:
Source: Read Full Article