Gillian Keegan says heads must 'get off backsides' on concrete crisis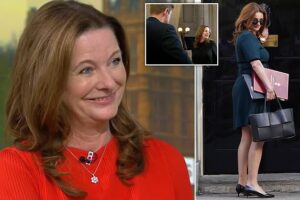 Now Gillian Keegan blames schools for concrete chaos saying heads must 'get off your backsides' and tell ministers about Raac in buildings – but they brand her 'petulant' in furious tit-for-tat row
Gillian Keegan sparked a fury from schools over the concrete crisis today as she blamed them for failing to 'get off their backsides'.
The Education Secretary dramatically escalated the tit-for-tat with teachers as she vented frustration at delays in getting information about Raac in buildings.
After delivering an extraordinary foul-mouthed rant yesterday about not getting credit for doing a 'f***ing good job' responding to the chaos, Ms Keegan complained that 5 per cent of schools had still not responded to a questionnaire sent out by her department in March 2022.
She told Jeremy Vine on BBC Radio 2: 'Now hopefully all this publicity will make them get off their backsides. But what I would like them to do is to respond because I want to be the Secretary of State that knows exactly in every school where there is Raac and takes action.'
Ms Keegan added: 'We've written to them quite a few times and we've also set up a call centre to phone them up to ask them to do it and they still haven't. So we have written to them yesterday and given them until the end of the week.'
Unions condemned the remarks as 'outrageous' and 'petulant', pointing out that schools did not usually have specialist staff who could identify Raac.
Education Secretary Gillian Keegan dramatically escalated the tit-for-tat with teachers as she vented frustration at delays in getting information about Raac in buildings
In an interview with Sky News ' Politics Hub last night, Ms Keegan gave an embarrassed laugh as she was played footage of her sweary rant
A taped off section inside Parks Primary School in Leicester which has been affected by the Raac crisis 
The minister has been scrambling to shore up her position after more than a hundred schools in England were told they could not fully open because of safety fears.
The backlash gathered pace yesterday after Ms Keegan was caught on camera griping about how the government was getting no credit for doing a 'f***ing good job' while everyone else 'sat on their a***'.
She was subsequently sent out by No10 to issue a grovelling apology, saying she had been 'frustrated' by a line of questioning.
In an interview with Sky News' Politics Hub last night, Ms Keegan gave an embarrassed laugh as she was played the footage. Asked if she thought she was doing an 'f***ing good job' she replied: 'I wasn't talking about me actually, I was talking about the department.'  
Ms Keegan was also pressed by presenter Sophy Ridge over going on holiday to Spain last week as the crisis over Raac – a lightweight type of concrete widely used between the 1950s and 1990s – was about to erupt.
She said she had spent the 'whole of the summer' dealing with industrial action by teachers, A-level and GCSE results so the last week of August was her first opportunity to go away with family. 
'I worked remotely on holiday as well,' she said. 'I chaired the Gold Team from there every day, made the decision, and I said if it looks like we are going to make a decision… then I will just come back, and I came back straight away.'
Ms Keegan said her return was delayed by a day due to the air traffic control system meltdown, but she was in the UK on Thursday to make the announcement that emergency mitigation measures were needed in over 100 schools.
Geoff Barton, general secretary of the Association of School and College Leaders (ASCL), said: 'This is the Education Secretary's second display of petulance in consecutive days – albeit on this occasion without the swear words attached – and isn't very helpful.
'Schools have been expected to identify Raac even though this is a specialist field and are unlikely to have staff who are experts in this area.
'They have received minimal help from the Department for Education which will have known which schools have not returned surveys for several months and which has had ample time to reach out to them. The Education Secretary would do better to provide support, rather than blame.'
Paul Whiteman, general secretary of the NAHT school leaders' union, said: 'Any attempt to start shifting the blame onto individual schools will be seen by parents and public for what it is: a desperate attempt by Government to deflect from its own significant failings.
'The facts are clear: the current crumbling school estate is the direct result of ministerial decisions to slash capital budgets. Furthermore, the Government has known about the risks associated with Raac for many years but has only recently sent out these surveys to responsible bodies.'
He added: 'The fact that we now have classroom ceilings held up by metal poles and classrooms put out of use completely is a reflection of the neglect and cuts we have been warning about for years.
'The responsibility for this situation sits squarely on the Government's shoulders and no amount of deflection and distraction will change that.'
MPs are becoming increasingly angry at the handling of the concrete issue. 
One Tory MP told the Telegraph: 'The way she's conducted herself – in particular in that ITV interview – shows she is selfish and shameless and not fit to stay in office. 
'It's a damning indictment of Rishi Sunak and the people he has appointed to his Cabinet.'
Another added that they believed Ms Keegan had been 'over-promoted'. A senior backbencher told MailOnline that the minister seemed to be in a 'lot of trouble' and it 'could be her last chance'. 'Although some people will say that she has been honest and is a breath of fresh air,' they added.  
The concrete crisis has meant scores of pupils began the school year by learning online in an echo of the huge disruption caused by the pandemic.
Teachers spent the weekend scrambling to erect tented classrooms and acquiring festival-style toilets in a bid to keep classrooms open. The closures left parents racing to find emergency childcare as they juggled remote learning with full-time work.
However, it has come to light that initial concerns were raised early last month, weeks before the last-minute panic before schools returned.  
Ms Keegan came under fire for failing to appear on the airwaves over the weekend to address the issue, and instead released a bizarre video with a dance music soundtrack. 
After his boss's epic round of interviews yesterday, schools minister Nick Gibb was sent out to bat for the government on TV this morning.
He said he did not 'accept' the accusation that ministers have taken a sticking plaster approach to essential maintenance by the head of the Whitehall spending watchdog.
He told Sky News on Tuesday: 'We're spending £1.8billion a year … and we are taking more proactive action on that than any other government in the world.
Exasperated Tories have warned that Gillian Keegan has a last chance to hang on to her job
The Education Secretary was caught out by a 'hot mic' incident yesterday as she said others had 'sat on their a***' after an interview with ITV news
'We are the government that put out the warning notice in 2018. We're the government that sent questionnaires to every responsible body, asking them to tell us about Raac (reinforced autoclaved aerated concrete) in their schools. And we are the government that proactively sought evidence about Raac and took a decision last week that even non-critical Raac now we need to take children out of those schools.'
Explaining school closures, Mr Gibb said: 'Every school that has a problem with Raac, we are sending in a caseworker to work with the school. In some schools it will just be one room, a cupboard. In other schools it will be a sports hall indeed or it might be pervasive throughout the school.
'So it will depend on the level of Raac in the school. What we are clear about is that no child, no member of staff will be in a room that has Raac.'
Source: Read Full Article