The 4 best baby laundry detergents of 2021 that are sensitive on skin, but work on tough stains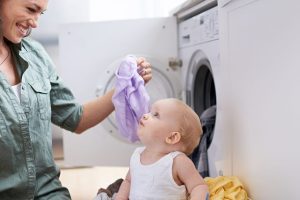 If you buy through our links, we may earn money from affiliate partners. Learn more.
When a new baby arrives it changes everything, even laundry.
All's Free Clear detergent is our top pick because it's powerful but gentle on sensitive skin.
We also have baby laundry detergents for tough stains, diapers, and more.
This article was reviewed by Dipesh Navsaria, MPH, MSLIS, MD, FAAP, who is an associate professor of pediatrics at the University of Wisconsin School of Medicine and Public Health, and president of the Wisconsin Chapter of the American Academy of Pediatrics.
Bringing a new baby home is both an exciting and sometimes overwhelming time. The little one is relying on you for everything including clean clothes and bedding that will not irritate delicate skin.
According to Cleveland Clinic pediatric dermatologist Joan Tamburro, DO, "A child who has skin problems may be more prone to laundry detergent reactions. A family history of atopic dermatitis (eczema) also may put your infant at higher risk."
As a laundry and housekeeping professional, I've been testing products for companies, agencies, and publications for many years. So with the birth of my first grandchild, I was delighted to be able to lessen one anxiety by recommending the best laundry detergent for both the baby and his parents. As I was testing and selecting a laundry detergent for our precious new one, I took into consideration the product's ingredients, cleaning ability, cost per load, and ease of use.
Popular Reviews
The main culprits in commercial laundry detergent that causes skin irritation and allergic reactions are dye and fragrance. By choosing a product that is dye and scent-free, the detergent can be used for not only baby's clothes but all household laundry.
However, keep in mind that allergies and sensitivities can be highly individual, so always try out new detergents in small quantities first, even if it's specifically marked as "hypoallergenic" or "for sensitive skin." If after testing you see any irritation, eliminate the detergent and see if the problem is resolved. Then, consider trying it one more time — if the irritation returns, you can be pretty confident at that point it's the detergent and should look to find a new option.
Here are the best baby laundry detergents
Best baby laundry detergent overall: All Free Clear Liquid Laundry Detergent
Best baby laundry detergent for the environment: Seventh Generation Baby Detergent
Best baby laundry detergent for tough stains: Babyganics Baby Laundry Detergent
Best baby laundry detergent for diapers: Rockin' Green Classic Rock Natural Laundry Detergent Powder
The best baby laundry detergent overall
If you are looking for a reasonably-priced, effective laundry detergent that is safe for your baby's delicate skin and can be used for the rest of the family's laundry, All's Free Clear liquid detergent is your best bet.
What we like: Performs well for both baby and family laundry, mid-priced, readily available in mass-market stores and online, free of dyes and perfumes
The final verdict after testing more than 10 products was that All Free Clear liquid will give a baby the protection they need from irritation, remove all but the worst stains, not break the budget, and can be used to wash clothes for the entire family. It is also the most highly recommended detergent brand for sensitive skin by dermatologists, allergists, and pediatricians.
All Free Clear comes in liquid, powder, and single-dose packs. I would recommend the liquid formula, costing about 20 cents per load, because it can also be used to pretreat stains. Just work in a tiny amount of the liquid into the stained area with your fingers or a soft-bristled brush and wait about 15 minutes before washing.
The best baby laundry detergent for the environment
Environmentally-friendly Seventh Generation Baby Concentrated Laundry Detergent also protects your baby's sensitive skin from harsh chemicals.
What we like: Plant and mineral-based ingredients are environmentally-friendly, detergent works well on baby stains, can be used for laundry for the entire family
Protecting a new baby is always a top priority, but we should never forget that protecting the Earth is also important. Seventh Generation products adhere to that philosophy and use only plant or mineral-based ingredients. Seventh Generation Baby Laundry Detergent received a 97% rating as a USDA Certified Biobased Product and is never tested on animals.
After giving it a try on our baby's laundry, I was delighted with the results. The plant-based enzymes removed tough formula and diaper stains with ease. The cost at around 25 cents per load is higher but the results are worth it.
The best baby laundry detergent for tough stains
Just as babies grow bigger, so do their stains. Babyganics 3X Baby Laundry Detergent contains the enzymes you need to treat those stains.
What we like: Contains enzymes to tackle tough stains, available in unscented and scented formulas, concentrated formula with an easy-to-handle bottle
Newborns need to be swaddled with soft, irritant-free fabrics from the moment they are born. Fortunately, other than some diaper accidents, they don't create too many difficult stains. But as they age and are introduced to commercial formulas that contain iron and then those first solid foods, the stains can be a challenge especially if they sit around for several days before being washed.
That's why I was so pleased to discover that Babyganics contains the enzymes protease to break down protein stains (diaper stains) and amylase to tackle starches and carbohydrates stains. What also makes Babyganics a good choice is that the formula is plant and mineral-based and carries the USDA Certified Biobased label.
Developed to use in both standard and high-efficiency washers at a cost of around 23 cents per load, I use Babyganics liquid detergent as a stain pre-treater before tossing those dirty bibs into the washer. If you like a bit of scent, it also comes in a lavender scent created with natural essential oils.
The best baby laundry detergent for diapers
Cloth diapers present a laundry challenge to new parents, but Rockin' Green Classic Rock Natural Laundry Detergent can make it all easier.
What we like: Mineral-based and contains no petroleum-based products, produced in the United States, removes diaper stains and odor
Every parent must make the decision on whether to use cloth or disposable diapers with each having its own merits. If cloth diapers are the final choice, learning how to clean and disinfect them properly is a must. Even if you use a diaper service, there will be times when you need to wash a load of diapers at home.
Rockin' Green is a small company based in Texas that tackles the challenge of diaper laundry with a mineral-based powdered detergent that removes tough stains but leaves the fabric feeling soft to the touch. Free of dyes and perfumes, the company also offers a Hard Rock formula if you live in an area with hard water that can leave fabrics stiff and scratchy.
I found that if you follow the proper routine of rinsing and pre-soaking soiled diapers and wash them regularly, for less than 20 cents per load your little one will have clean, odor-free diapers every day.
Sign up for Insider Reviews' weekly newsletter for more buying advice and great deals.
You can purchase syndication rights to this story here.
Disclosure: This post is brought to you by the Insider Reviews team. We highlight products and services you might find interesting. If you buy them, we get a small share of the revenue from the sale from our commerce partners. We frequently receive products free of charge from manufacturers to test. This does not drive our decision as to whether or not a product is featured or recommended. We operate independently from our advertising sales team. We welcome your feedback. Email us at [email protected]
Source: Read Full Article