BlackRock's new SEC filings list Bitcoin derivatives as possible investment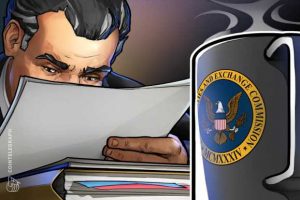 BlackRock, the world's largest asset manager, could be preparing its entry into the Bitcoin (BTC) derivatives market, according to a pair of filings with the United States Securities and Exchange Commission, or SEC. 
The two prospectus filings — BlackRock Funds V and BlackRock Global Allcoation Fund, Inc. — appeared on the SEC website on Wednesday. Both filings mention the possibility of using Bitcoin derivatives and other assets as part of its investment scheme. However, neither filing makes a definitive statement about the use of Bitcoin futures now or in the future.
The prospectus states:
"Each Fund may use instruments referred to as derivatives, which are financial instruments that derive their value from one or more securities, commodities (such as gold or oil), currencies (including bitcoin), interest rates, credit events or indices (a measure of value or rates, such as the S&P 500 Index or the prime lending rate)."
BlackRock also cited Bitcoin when referring to the various risk factors for derivatives. In Bitcoin's case, the digital asset may induce illiquidity risk:
"A Fund's investment in bitcoin futures may involve illiquidity risk, as bitcoin futures are not as heavily traded as other futures given that the bitcoin futures market is relatively new."
BlackRock's executive brass has spoken positively about Bitcoin in recent months, mirroring a broader shift in institutional sentiment towards digital assets. In November, CIO Rick Rieder said Bitcoin has the potential to "take the place of gold to a large extent."
Larry Fink, BlackRock's CEO, says Bitcoin has caught his attention and could possibly evolve into a global market.
As Cointelegraph reported last month, BlackRock is looking to hire a blockchain VP with experience in crypto assets. The person hired for the role will be tasked with implementing strategies "designed to drive demand for the firm's offerings."
Source: Read Full Article