Institutional investors won't take Bitcoin mainstream — You will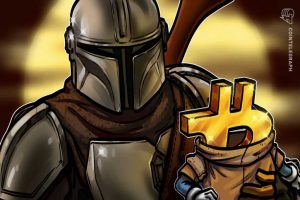 Similar to 2017 and the popular cryptocurrency bull run, last year created a fresh buzz in the world of crypto and Bitcoin (BTC) particularly. From setting new all-time highs to making various news rounds and capturing mainstream finance's attention, the pandemic year was exciting for cryptocurrency enthusiasts and believers.
Related: Did Bitcoin prove itself to be a reliable store of value in 2020? Experts answer
One conversation that perhaps stands out amid the buzz is institutional investors' increasing activity in crypto. Companies, financial advisers and institutions that mocked Bitcoin five years ago, or during the Silk Road saga, are now at the forefront of crypto investments. Notable big guns in finance such as JPMorgan and Goldman Sachs have reneged on their previous stances and are now willing to make a bet on the future of digital currencies. With a market capitalization of over $600 billion, Bitcoin is quickly rising ahead of gold as a popular choice of hedge over inflation.
Remember, Bitcoin was not just another asset proposed as a hedge against inflation in Satoshi's original Bitcoins white paper. However, Bitcoin's whole idea stemmed from the failed financial institutions and third parties and a possible solution that would be effective in everyday life.
Of course, with every institutional investor and the big guns of finance swinging into Bitcoin investment, Bitcoin's popularization as an asset has become inevitable. However, here are some of the ideal, real-world applications that could challenge failing fiat currencies and propel Bitcoin into the mainstream.
Online purchases
In the past, Bitcoin was mostly perceived as a means to bypass the government and engage in illegal activities. However, crypto adoption has continued to soar tremendously, and many more companies are now open to accepting Bitcoin or some other cryptocurrencies as payment for goods or services.
In 2014, using BitPay as its payment processor, Microsoft became one of the first tech companies to accept Bitcoin to purchase digital goods. In October 2020, the popular American payments company PayPal announced that it would enable cryptocurrency as a funding source for purchases in 2021. With different fiat payment merchants now recognizing Bitcoin, there's an increasing likelihood that Bitcoin will be used by everyone soon enough in every corner of the world.
Related: Will PayPal's crypto integration bring crypto to the masses? Experts answer
Cross-border transactions and travel
If there's any lesson learned from last year and throughout the ravaging global pandemic, it is the ever-increasing need for digitization. While there are several ways to send and receive money globally, cryptocurrencies are quickly becoming a preferred option. Besides the fact that cryptocurrency is a global currency, factors including speed, convenience and lower transaction fees are pushing Bitcoin as the popular option for cross-border transactions.
Related: How has the COVID-19 pandemic affected the crypto space? Experts answer
Many countries that once outlawed Bitcoin are now open to it, and the mainstream media has been more than receptive in the past couple of months. Some companies already provide travel packages that allow tourists and travelers to book flights, hotels and transportation using cryptocurrency. With time, the foreign exchange market's many disadvantages may popularize traveling with crypto ahead of local or fiat currencies.
Bitcoin ATMs
In all fairness, the goal has never been to phase out local currencies but to create a world where Bitcoin is as relevant as any fiat currency. Bitcoin ATMs are, without a doubt, a huge part of this goal. They essentially allow anyone to purchase Bitcoin with a credit card; with some Bitcoin ATMs, you can also sell Bitcoin for cash.
The number of Bitcoin ATMs worldwide is more than 13,000 in 71 countries. While there's a long way to go with these ATMs, there has been an increasing trend every year with an average of one ATM now being added every hour. Without a doubt, Bitcoin ATMs are a big part of the crypto revolution, and they're only going to get better in operation.
Conclusion
While cryptocurrencies are quickly becoming part of our digitized world, the underlying blockchain technology has also played a crucial role in revolutionizing many industries. Supply chains, healthcare, and the food and auto industries have benefitted immensely from this revolution over the past 10 years.
This article does not contain investment advice or recommendations. Every investment and trading move involves risk, and readers should conduct their own research when making a decision.
The views, thoughts and opinions expressed here are the author's alone and do not necessarily reflect or represent the views and opinions of Cointelegraph.
Source: Read Full Article