April 12 lockdown news UK: Coronavirus-weary Brits flock to pubs and shops as Boris lifts Covid restrictions from TODAY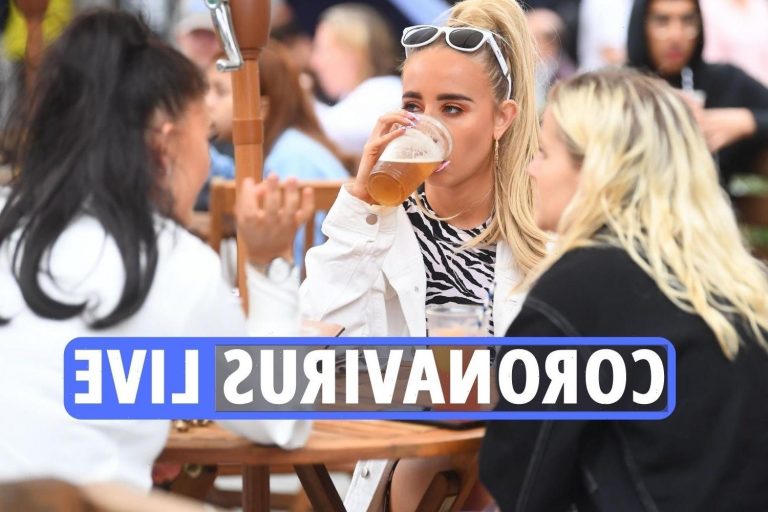 LOCKDOWN restrictions have finally been eased for Brits as Boris Johnson today unlocked England's pubs and shops.
Today's milestone marked the second phase of the PM's four-step roadmap out of lockdown – including a cheeky loophole which means you can go INSIDE a pub.
A handful of boozers have a 24-hour license – and welcomed punters back with open arms as rules eased from midnight.
But the PM has cancelled his own trip to the pub and the barbers as a mark of respect to Prince Philip, who passed away on Friday aged 99.
Non-essential shops, hairdressers and theme parks, as well as restaurants with outdoor space are now open. 
Pubs, bars, restaurants and cafes can utilise any outdoor space available to them as a makeshift drinking and dining area – an initiative first mooted last June. 
Pub-goers will be able to soak up the sun in beer gardens across the UK, with a 'mini-heatwave' expected.
It comes as the single-dose Janssen vaccine is set to be approved in DAYS with the UK's fourth Covid jab expected to help widen the rollout to under-50s.
A decision by the health regulator is expected to be made within the next ten days – with the Government having already ordered 30 million doses of the lifesaving jab.
Meanwhile, transport secretary Grant Shapps has insisted foreign holidays will be able to resume "safely and sustainably" under new Government plans for a traffic light system for international travel.
How the traffic light system will work:
* Green: Passengers will not need to quarantine on return, but must take a pre-departure test, as well as a PCR test on return to the UK
* Amber: Travellers will need to quarantine for 10 days, as well as taking a pre-departure test and two PCR tests
* Red: Passengers will have to pay for a 10-day stay in a managed quarantine hotel, as well as a pre-departure test and two PCR tests
Read our coronavirus live blog below for the very latest news and updates on the pandemic…
Sarah Grealish

WELCOMING CUSTOMERS BACK

BIG chains such as Beefeater, McDonald's and Zizzi are offering deals, discounts and even FREE food to welcome customers back in. 

Covid rules will ease further from today under Boris Johnson's roadmap out of lockdown, with Brits able to grab a pint or a meal outdoors.

Some of the nation's favourite boozers and restaurants are offering deals of up to 25% off orders – or even free food and drink – to reel punters back in.

Businesses are expected to come out fighting for survival today, as experts estimate more than 200,000 jobs could be lost because of restricted trading rules.

Pubs, bars and restaurants can't serve punters inside – which means that those without outdoor dining space or beer gardens won't be able to open.

Read more here.

Sarah Grealish

'BIG DAY' FOR BUSINESS

Helen Dickinson, chief executive of the British Retail Consortium, said it was a "big day" for reopening businesses, and that many were "excited and desperate" to welcome customers back.

"It's a big day for the country and it's a big day for all of these businesses reopening their doors today," she told Sky News.

"They are very excited and desperate to welcome their customers back (with) the focus on safety."

Ms Dickinson said that retailers were now used to preparing to reopen their doors, having experienced the process during previous lockdowns, but added that customers also had a "part to play".

Joseph Gamp

PUB ASSOCIATION SAYS ONLY 40% OF LICENSED PREMISES HAVE SPACE TO REOPNE FOR OUTDOOR SERVICE

In England, pubs and restaurants have been making changes during lockdown to maximise their ability to serve customers outside.

But the British Beer and Pub Association estimates that just 40% of licensed premises have the space to reopen for outdoor service.

The previous 10pm curfew rule and the requirement to order a substantial meal with a drink have been scrapped, but social distancing must be observed.

Domestic holidays can resume to an extent, with overnight stays permitted in self-contained accommodation, such as holiday lets and campsites where indoor facilities are not shared.
Joseph Gamp

CAUTION URGED AS LOCKDOWN IS EASED FOR SHOPS AND PUB GARDENS IN ENGLAND

Caution has been urged as a major easing of England's lockdown kicks i today.

It will allow pubs and restaurants to serve customers outside and hairdressers and non-essential shops to resume business.

Indoor gyms, swimming pools, nail salons and zoos will also reopen on Monday as lives take another step back towards normality.

However, social mixing indoors will remain heavily restricted, with around 40% of adults yet to receive their first dose of a Covid-19 vaccine.

Professor Peter Horby, a senior scientist advising the Government, warned on Sunday that the remaining rules must be abided by to minimise the effects of a future "rebound" in cases.

Businesses and citizens eagerly anticipated the renewed freedoms, but any fanfare for the easing of restrictions has been somewhat muted by the national mourning for the Duke of Edinburgh.

Joseph Gamp

POLICE OFFICERS 'DEEPLY REGRET' UPSET CAUSED BY SHUTTING DOWN CHURCH SERVICE

Police officers have said they "deeply regret" the upset caused by shutting down a Good Friday church service for breaching coronavirus rules.

Two Metropolitan Police officers attended a service at Christ the King in Balham, south London, on Sunday to address worshippers about the incident.

Officers had halted the Friday service when they found some worshippers breaching social-distancing guidelines and not wearing masks, according to the force.

In a letter to parishioners on its website, the Polish Catholic church responded at the time by saying police had exceeded their powers and that all Government requirements were met.

Nine days later, Detective Superintendent Andy Wadey and Superintendent Roger Arditti addressed worshippers in a Sunday mass service which was live-streamed on YouTube.

Britta Zeltmann

BEER WE GO!

Pubs have reopened in England for the first time in months, with punters queuing up to get their hands on a poured pint.

Keen pub-goers were seen waiting patiently in line for pubs to open at midnight.

And pent-up demand will see £1.5billion — that's £2.7million a minute — spent in venues and reopening attractions between 9am and 6pm.

Work leave requests for today are also up almost 20 per cent.

And in the next week, 24 million people — half of England's adult population — will go drinking or shopping. Read more here.

Pals enjoying a drink at the Kentish Belle in Bexleyheath after lockdown eased

Joseph Gamp

LEADERS TO PAY TRIBUTE TO PHILIP AS 'GRANDFATHER OF THE NATION' IS MOURNED

Leaders from the four corners of the UK will pay tribute to the Duke of Edinburgh on Monday as the royal family mourns the loss of "the grandfather of the nation".

Politicians across Great Britain and Northern Ireland will offer their respects to Philip, whose death the Queen has described as "having left a huge void in her life".

The early return of parliaments in London, Edinburgh and Cardiff come after a weekend which has seen all four of Philip's children speak movingly about the loss of their father.

After a church service in Windsor on Sunday, where some of the royals said prayers for Philip, the Duke of York revealed the personal feelings of the Queen.

He said: "She described it as having left a huge void in her life but we, the family, the ones that are close, are rallying round to make sure that we're there to support her."

Joseph Gamp

ATM VISITS COULD INCREASE AS PARTS OF ENGLAND'S ECONOMY ARE REOPENED

The reopening of more businesses from Monday could prompt more visits to cash machines, although some shoppers may have changed their habits for good.

Shops, hairdressers and pub beer gardens are among those reopening from April 12 in England as the next step in the road map out of lockdown is taken.

A boss at Link, the UK's main ATM network, said it would be interesting to see how many people are paying for their first rounds in the pub in "good old cash", and how many are turning to cards.

ATM use plunged early on in the coronavirus lockdowns, with some retailers discouraging shoppers from using cash.

However, Bank of England research has previously indicated that the risk of catching coronavirus from banknotes is low.

Joseph Gamp

US ADMINISTERS 187 MILLION DOSES OF COVID-19 VACCINES

The US had administered 187,047,131 doses of COVID-19 vaccines and distributed 237,796,105 doses as of Sunday, the U.S. Centers for Disease Control and Prevention said.

Those figures are up from the 183,467,709 doses the CDC said had been administered by April 10, out of 237,791,735 doses delivered.

The agency said 119,242,902 people had received at least one dose, while 72,630,892 people had been fully vaccinated as of Sunday.

The CDC tally includes the two-dose Moderna and Pfizer-BioNTech vaccines as well as Johnson & Johnson's one-shot vaccine as of 6 a.m. EDT on Sunday.

A total of 7,766,002 vaccine doses have been administered in U.S. long-term care facilities, the agency said
Joseph Gamp

BEHAVE RESPONSIBLY', PM URGES ENGLAND AS PUB GARDENS REOPEN IN LOCKDOWN EASING

Boris Johnson has urged the nation to "behave responsibly" when pub gardens reopen and restaurants resume outdoor dining in a major easing of England's coronavirus lockdown.

Shops deemed non-essential will also reopen on Monday, as will hairdressers, indoor gyms, swimming pools, nail salons and zoos in another stride back towards normality.

However, social mixing indoors will remain heavily restricted, with around two in five adults yet to receive their first dose of a Covid-19 vaccine and the vast majority yet to get both.

The Prime Minister urged caution during the "major step forward" as a scientist advising the Government warned the rules must be followed to minimise a possible rebound in case numbers.

"I'm sure it will be a huge relief for those business owners who have been closed for so long, and for everyone else it's a chance to get back to doing some of the things we love and have missed," Mr Johnson said.

"I urge everyone to continue to behave responsibly and remember 'hands, face, space and fresh air' to suppress Covid as we push on with our vaccination programme."

Joseph Gamp

PRINCE HARRY MUST REMAIN IN 10 DAY QUARANTINE AFTER ARRIVING IN UK TODAY – BUT HE CAN STILL ATTEND PHILIP FUNERAL

Harry returned to the UK this evening, and is thought to have driven to Kensington Palace where he could stay at Nottingham Cottage – the home he and Meghan shared before they were married.

The duke flew over from the US in his first return since he and Meghan stepped back from royal duties.

A witness told The Sun he got off a British Airways flight from Los Angeles which arrived at Heathrow at 1.15pm today.

He will have to quarantine for ten days on arrival to the UK – although he can leave it after five days if he provides a negative test under the government's 'Test to Release' scheme.

He will be allowed to attend Philip's funeral regardless – as government guidelines state those coming in from abroad can leave isolation "on compassionate grounds".

Joseph Gamp

BRITS URGED TO RAISE A GLASS TO PRINCE PHILIP AS THE NATION'S PUBS – INCLUDING WINDSOR'S DUKE OF EDINBURGH – REOPEN

THE landlords of the Duke of Edinburgh pub have raised a toast to Prince Philip and urged the rest of England to do the same today as the country unlocks.

Nick Tilt and Annie Andrews held up their glasses outside their boozer in Windsor — just a few miles from the Castle.

Staff and locals joined them as they paid tribute to the Queen's husband, who died on Friday at the age of 99.

They gathered as the pub, like many others, prepared to reopen today — to provide outdoor service.

Windsor-born Annie, 65, said it was "fantastic" to raise a glass to the Duke – who was fond of beer — and to "let out a big cheers!"

Joseph Gamp

MEXICO REPORTS 1,793 NEW CORONAVIRUS CASES AND 126 MORE DEATHS

Mexico's government reported 1,793 new confirmed cases of the coronavirus and 126 more fatalities, according to data from the health ministry published on Sunday.

The country's overall total now stands 2,280,213 infections and 209,338 deaths.

The government says the real case numbers are likely significantly higher, and separate data published by the health ministry suggested the actual coronavirus death toll may be at least 60% above the confirmed figure.

Joseph Gamp

'BEHAVE RESPONSIBLY', PM URGES ENGLAND AS PUB GARDENS REOPEN IN LOCKDOWN EASING

Boris Johnson has urged the nation to "behave responsibly" when pub gardens reopen and restaurants resume outdoor dining in a major easing of England's coronavirus lockdown.

Shops deemed non-essential will also reopen on Monday, as will hairdressers, indoor gyms, swimming pools, nail salons and zoos in another stride back towards normality.

However, social mixing indoors will remain heavily restricted, with around two in five adults yet to receive their first dose of a Covid-19 vaccine and the vast majority yet to get both.

The Prime Minister urged caution during the "major step forward" as a scientist advising the Government warned the rules must be followed to minimise a possible rebound in case numbers.

"I'm sure it will be a huge relief for those business owners who have been closed for so long, and for everyone else it's a chance to get back to doing some of the things we love and have missed," Mr Johnson said. "I urge everyone to continue to behave responsibly and remember 'hands, face, space and fresh air' to suppress Covid as we push on with our vaccination programme."

Joseph Gamp

PM CHOOSES NOT TO ATTEND PHILIP'S FUNERAL BECAUSE OF CORONAVIRUS GUEST LIMITS

Boris Johnson will not attend the Duke of Edinburgh's funeral to allow for the attendance of as many family members as possible during coronavirus restrictions, No 10 has said.

The Prime Minister was understood to have been expected to attend the ceremony for Philip by the royals, but offered to step aside with the number of guests allowed limited to 30.

The duke's funeral will take place in Windsor Castle on April 17, but it will be unlike typical royal send-offs, with the public being told to stay away because of the pandemic.

A No 10 spokesman said: "As a result of the Coronavirus regulations, only 30 people can attend the funeral of HRH The Prince Philip, Duke of Edinburgh.

"The Prime Minister has throughout wanted to act in accordance with what is best for the royal household, and so to allow for as many family members as possible will not be attending the funeral on Saturday."
Joseph Gamp

FULL RETURN OF SCHOOLS AND REOPENING OF RETAIL IN WALES FROM MONDAY

Schools in Wales are set to fully reopen on Monday, along with remaining non-essential retail, and some travel restrictions will be lifted.

Close-contact services will reopen and university campuses will welcome back students for blended face-to-face and online learning.

Wedding venue "show-arounds" by appointment will also be allowed, as part of the latest easing of coronavirus restrictions.

While restrictions on travel in and out of Wales will be lifted on Monday, people will not be able to journey to countries outside of the Common Travel area – the UK, the Channel Islands, the Isle of Man and Ireland – without a reasonable excuse.

Last week, the Welsh Government announced it would be accelerating parts of its lockdown exit programme, with First Minister Mark Drakeford saying the "improvements" in the public health situation and the ongoing vaccination programme meant changes could be made to previously announced plans.

Joseph Gamp

CANADA: ONTARIO RECORDS NEARLY 4,460 NEW COVID CASES

Canadas most populous province reported a new single-day high for new infections with nearly 4,460 cases across Ontario.

The latest figures released Sunday also show a sharp rise of new confirmed cases in Toronto, which jumped by nearly 400 to over 1,350.

More than 3.1 million vaccine doses have been administered in Ontario so far. The province has a population of 14.5 million.

Joseph Gamp

WATCH: COVID DEATHS DROP TO SINGLE FIGURES FOR THE FIRST TIME IN SEVEN MONTHS WITH SEVEN FATALITIES

Covid deaths drop to single figures for the first time in seven months with seven fatalities as cases fall by a quarter

Joseph Gamp

SOUTH KOREA TO RESUME ADMINISTERING ASTRAZENECA VACCINE TO PEOPLES AGED 30 TO 60

South Korea says it will resume administrating AstraZenecas Covid-19 vaccine to all eligible people between the ages of 30 and 60.

Last week, South Korea suspended the use of AstraZeneca vaccines for people under 60 while awaiting the outcome of the European Medicine Agencys review.

The Korea Disease Control and Prevention Agency said Sunday it will restart the use of AstraZeneca vaccine beginning Monday, citing studies showing that the vaccines benefits outweighs the risk of side effects.

An agency statement said people under 30 will be excluded, as U.K. authorities have recommended they take alternative vaccines.

Joseph Gamp

SEVEN FURTHER UK CORONAVIRUS DEATHS – TOTAL NOW 127,087

The Government said a further seven people had died within 28 days of testing positive for Covid-19 as of Sunday, bringing the UK total to 127,087.

Separate figures published by the UK's statistics agencies show there have been 150,000 deaths registered in the UK where Covid-19 was mentioned on the death certificate.

The Government also said that, as of 9am on Sunday, there had been a further 1,730 lab-confirmed cases in the UK.

It brings the total to 4,369,775

Joseph Gamp

COVID-19 NEWS ROUND UP: WHAT HAPPENED TODAY

Thousands of more pubs can open on April 12 as outdoor boozing rules are eased
More than half of Brits live in Covid-free areas
Rishi Sunak facing calls to axe the tax on Covid tests before return of foreign holidays
Covid vaccine passports will be short-term 'bridge to freedom'

Joseph Gamp

CAUTION URGED AHEAD OF LOCKDOWN EASING FOR SHOPS AND PUB GARDENS IN ENGLAND

Caution has been urged ahead of a major easing of England's lockdown which will allow pubs and restaurants to serve customers outside and hairdressers and non-essential shops to resume business.

Indoor gyms, swimming pools, nail salons and zoos will also reopen on Monday as lives take another step back towards normality.

However, social mixing indoors will remain heavily restricted, with around 40% of adults yet to receive their first dose of a Covid-19 vaccine.

Professor Peter Horby, a senior scientist advising the Government, warned on Sunday that the remaining rules must be abided by to minimise the effects of a future "rebound" in cases.

Businesses and citizens eagerly anticipated the renewed freedoms, but any fanfare for the easing of restrictions has been somewhat muted by the national mourning for the Duke of Edinburgh.

Joseph Gamp

REGIONAL BREAKDOWN OF CURRENT COVID VACCINATION TOTALS IN ENGLAND

The breakdown for the number of vaccines in England's regions is as follows:

– East of England: 3,235,736 first doses and 757,963 second doses, making 3,993,699 in total

– North East and Yorkshire: 4,283,721 first and 1,059,214 second doses (5,342,935)

– North West: 3,452,484 first and 843,711 second doses (4,296,195)

– South East: 4,407,623 first and 1,001,998 second doses (5,409,621)

– South West: 2,988,118 first and 671,104 second doses (3,659,222)

Joseph Gamp

ITALY REPORTS 331 CORONAVIRUS DEATHS ON SUNDAY, 15,746 NEW CASES

Italy reported 331 coronavirus-related deaths on Sunday against 344 the day before, the health ministry said, while the daily tally of new infections fell to 15,746 from 17,567 the day before.

Italy has registered 114,254 deaths linked to COVID-19 since its outbreak emerged in February last year, the second-highest toll in Europe after Britain and the seventh-highest in the world. The country has reported 3.77 million cases to date.

Patients in hospital with COVID-19 – not including those in intensive care – stood at 27,251 on Sunday, down from 27,654 a day earlier.

There were 175 new admissions to intensive care units, down from 186 on Saturday. The total number of intensive care patients fell to 3,585 from a previous 3,588.

Joseph Gamp

FRANCE: NUMBER OF COVID-19 PATIENTS IN INTENSIVE CARE CONTINUES TO RISE

The number of COVID-19 patients in intensive care in France continued to rise on Sunday as the country entered an eighth day in lockdown, official data showed.

Data showed there were 5,838 COVID-19 sufferers in intensive care, compared with 5,769 on Saturday, and that an additional 34,895 new cases of infection were detected on Sunday.

The epidemic has killed nearly 100,000 people in France

Source: Read Full Article