Former brothel madam Jamelie Lahood bailed over money laundering charges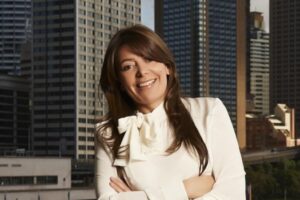 Save articles for later
Add articles to your saved list and come back to them any time.
Former brothel madam Jamelie Lahood has been released on bail over money laundering charges following a police sting allegedly involving $1 million in a car boot in North Sydney, 100 kilograms of drugs in designer bags and a shady character known only as "Mr Bond".
Lahood, 54, who battled Sydney identity Fadi Ibrahim over a waterfront mansion for years and ran the famous Camperdown brothel Stiletto, was arrested in August as part of a wider police investigation into international drug trafficking.
Jamelie Lahood was charged with recklessly dealing with the proceeds of crime of more than $100,000, and knowingly dealing with the proceeds of crime after an investigation into an alleged drug supply syndicate, police say.
She is alleged to have handled the money at the final stage of a conspiracy to import 100 kilograms of methamphetamine into Australia. However, she has not been charged with any drug-related offences. Her lawyer, Abbas Soukie, said there was no suggestion she was involved in drug importation and she looked forward to clearing her name.
"The high point of the Crown case against Ms Lahood is that she allegedly handled two bags of money which contained $1 million in cash, which she knew was the proceeds of crime," Soukie said. "That allegation is rejected and Ms Lahood intends to defend the allegations."
According to court documents, police arranged a covert operation using an undercover officer who posed as a drug trafficker to communicate through the encrypted telecommunications platform Threema with an individual who used the name "Mr Bond".
Between April and August, Mr Bond allegedly sent the undercover officer the details of a shipment of methamphetamine from Malaysia to Sydney via Singapore and Brisbane. When it stopped in Brisbane, Australian Border Force officers boarded the boat and identified four black duffle bags and one navy blue duffle bag, around eye level at the back of a shipping container. Inside the bags they allegedly found 100 bricks of crystalline substance labelled as Chinese-branded "Guanyinwang" tea bags. They were allegedly identical to photos previously sent to the undercover officer by Mr Bond.
When it arrived in Sydney, the undercover officer allegedly sent photos of the package to Mr Bond, who then arranged to pay $2 million in even instalments before and after it was received. Mr Bond sent the officer a photograph of cash lying on an off-white marble patterned tiled floor, and arranged via a group chat to drop it off in North Sydney, using a specific $5 note as a token to be placed at the pick-up site and used a receipt.
On August 24, an undercover officer parked a white Mazda on Blues Point Rd, McMahons Point, placing the designated $5 note inside an Uber Eats bag in the boot and a key on the back left wheel, and informing the group that the car was in position.
Within minutes, Lahood allegedly turned up and parked her car behind the Mazda. She allegedly found the key and opened the boot, before returning to her own vehicle and retrieving two full Woolworths bags, whose contents were concealed with a paperback. According to the police facts sheet, she then closed the boot and drove away in her car.
Abbas Soukie represented Lahood at her bail hearing last week.Credit: Wolter Peeters
When investigators searched the Mazda, they allegedly found two green bags containing $1 million. Five days later, police raided Lahood's Granville home and seized her laptop, her personal phone, a second Google Pixel phone that they believe is an encrypted communications device and a $5 note that allegedly bore the same serial number as the note in the boot of the car. Tiles in the photo allegedly matched those in the picture of the cash sent by Mr Bond to the undercover officer.
A photograph tendered in evidence shows the office set-up where the officers claim to have discovered the items. The desk is cluttered with papers and folders. They allegedly found the note inside a Chanel handbag, which is pictured on a set of drawers beneath a painting of Mary, Joseph and Jesus.
Lahood sold out of Stiletto in 2016 after the Australian Tax Office alleged she had not paid $16 million in tax. The ATO dropped the case but registered a caveat over her home in Yowie Bay, later to be joined by convicted money launderer Fadi Ibrahim.
When she sold it in 2017 for less than she had bought it five years earlier, Ibrahim claimed he held an interest in the property as security against money owed to him by Lahood and that it had been undervalued.
Start the day with a summary of the day's most important and interesting stories, analysis and insights. Sign up for our Morning Edition newsletter.
Most Viewed in National
From our partners
Source: Read Full Article