Tim Freedman warns Labor could blow up its vote on the pokies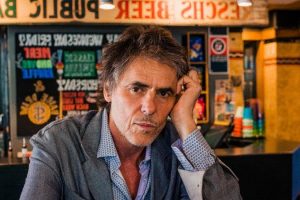 The Whitlams' Tim Freedman is a Labor man through and through. He named his band after the legendary Labor prime minister Gough, is a lifelong Labor voter (though not a party member) and regularly performs at Labor functions and fundraisers.
However, Freedman says he is seriously considering supporting the Greens in his Labor-Greens seat of Newtown if Labor leader Chris Minns does not adopt the cashless gaming card as a firm election commitment.
The Whitlams' Tim Freedman, who has a long association with Labor, says the party must commit to a mandatory cashless gaming card.Credit:James Brickwood
"There's no doubt it will help problem gamblers to control their impulses," he told the Herald. "I've been disgusted by [poker machines] for decades, so it's a very important issue to me."
Freedman and Greta Gertler wrote the classic Whitlams' hit Blow up the Pokies after seeing the damage gambling addiction wrought on young men in pubs, including the band's original bassist Andy Lewis, who took his own life in 2000.
Since then, Freedman has seen leaders of all stripes attempt reform only to buckle under pressure from the gaming industry, including Julia Gillard, who famously walked away from an agreement with independent MP Andrew Wilkie to bring in mandatory pre-commitment for poker machines.
In NSW, it was Labor's Bob Carr who allowed pokies into pubs and clubs in the first place, hooking the industry on a ballooning stream of gambling revenue. ClubsNSW has led the charge against the cashless card proposal, and Freedman believes Labor has been in the lobbyists' pocket for too long.
Labor leader Chris Minns is promising an expanded trial but is concerned the cashless card will disassociate punters from their losses.Credit:Wolter Peeters
"I wish they weren't so frightened of ClubsNSW," he says. He supports Labor's other policies and praises opposition leader Chris Minns as a good communicator. "I want him to succeed. I'm worried that he's letting [Dominic] Perrottet come across as the conviction politician."
Minns has called for an expanded trial of cashless gaming cards to gather evidence on whether they would actually redress problem gambling. He said he wanted to avoid making a bad situation worse by creating "a disassociation between what you put in the machine and what the punter loses at that machine".
"Too often the trial is just a way of putting off what we all believe in," says the Whitlams' Tim Freedman.Credit:James Brickwood
"We're not against cashless gaming. We want to make sure that a trial proves the point," Minns said, adding that the trial would be mandatory and take place in the cities and regional NSW. He has also promised to release a policy on problem gambling before the election.
However, Freedman said further trials were a cop-out that did not pass the 'pub test', and risked a repeat of the same backflips and compromises that afflicted previous attempts to limit gambling. "Too often the trial is just a way of putting off what we all believe in," he said.
Freedman also said a trial was not needed to know a cashless card would put a stop to money laundering through the pokies, which the NSW Crime Commission estimates occurs to the tune of billions a year. He thinks the gaming industry has gotten away with ignoring the problem.
"If it was announced that the music industry had been laundering drug cartel money, there would be a forensic accountant at every show settlement within a month," he says. "It would just be all over."
At the same time, Freedman challenges Perrottet to explain how he will get any legislation through parliament in the face of opposition from the Nationals, citing former Liberal premier Mike Baird's about-face on banning greyhounds.
Perrottet has suggested a cashless card could have a daily expenditure cap of $1000 to $1500, the equivalent of nearly $550,000 a year. But Freedman doesn't believe a mandatory limit is likely or fair. "The punters should be able to set their own figure," he says.
Minns also faces a high-profile challenge in the ultra-marginal seat of Kogarah from gaming industry whistleblower Troy Stolz. The former anti-money laundering and counter-terrorism financing auditor for ClubsNSW announced he would contest the March election as a "reform pokies independent" in Minns' seat.
Minns held a 1.8 per cent margin over his Liberal rival at the last election, although redrawn boundaries mean it is now the most marginal Labor-held seat in NSW, with a notional gap of just 0.1 per cent.
Last week Minns said Stolz was entitled to run, but any candidate needed to connect with voters on a wider range of issues than just pokies reform, such as tolls and cost of living.
The Morning Edition newsletter is our guide to the day's most important and interesting stories, analysis and insights. Sign up here.
Most Viewed in National
From our partners
Source: Read Full Article