Ethereum (ETH) Likely To Retest $147.65 Before Next Major Decline
Ethereum (ETH) has found near term support on the 61.8% fib level and has now bounced strongly from there. There is a strong probability that this rally might lead to a retest of the $147.65 level before the next major decline. The bulls seem quite optimistic with price targets of higher than $150 at this point. This is not surprising considering the last time the market crashed to form a double bottom, Bitcoin (BTC) actually plunged below its previous lows but Ethereum (ETH) held its ground and did not fall below previous lows.
While we do believe that this correction is far from over yet, there is still a possibility that the same could happen this time. The price of Ethereum (ETH) might end up finding support just above the previous low of $132.2 to repeat what we have seen happen during the previous decline. RSI on the 4H chart for ETH/USD indicates that a rally towards the $147.65 mark is quite likely. We have seen a retest of the previously broken trend line support turned resistance during the last crash which means that something similar could happen again. Now that ETH/USD is trading above the key $144.55 support, we are hopeful that a near-term rally towards the $147.65 mark might be just around the corner.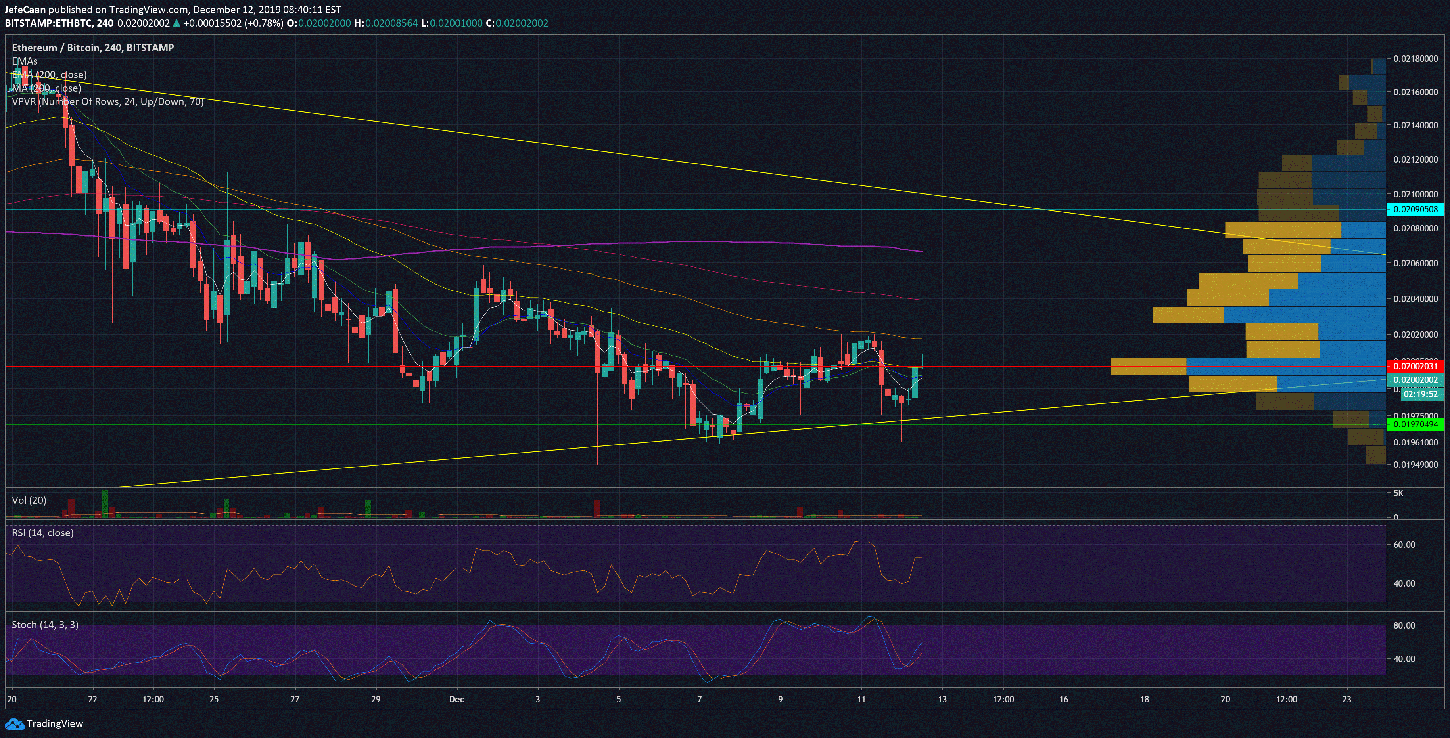 Ethereum (ETH) ran into resistance against Bitcoin (BTC)and is still struggling to attempt a decisive breakout. If Ethereum (ETH) breaks the 2,002,031 satoshi level against Bitcoin (BTC), we can expect a rally towards the 200 moving average in ETH/BTC before the next downtrend kicks in. That being said, Ethereum (ETH) is at a much greater risk of declining hard not only against the US Dollar but against Bitcoin (BTC) long term.
Regardless of any short-term bullishness in the market, this is not the time to be buying cryptocurrencies or worse, holding them. The problem with buying and "hodling" at this point is that the market could crash hard any time and it will then be a very long time before the price tests those level. For instance, we know at this point that it will be very hard for Ethereum (ETH) to reach $180 again. It could take months or years before that happens again. It is therefore important to realize that the larger trend is bearish despite any temporary bullishness and that the market has yet to see maximum pain.
You can share this post!
Source: Read Full Article